Tories admit 'mistake' over Gordon Brown joke tweet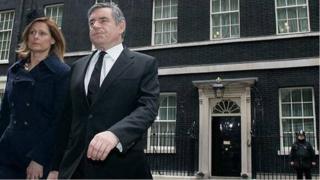 The Conservatives have admitted making a "mistake" when they tweeted a picture of Gordon Brown attending a World War II memorial service to make a joke.
The tweet read: "All's Well That Ends Well #LabourPlays" and showed the former prime minister wearing a black tie beside his wife Sarah.
The couple's picture was superimposed onto an image of Downing Street.
Labour demanded an apology and a Tory source later said it had been "inappropriate".
Labour MP Sheila Gilmore called its use "distasteful", adding that there had been "an appalling lack of judgement by Tory HQ" and urged the party to "make clear that this kind of behaviour is not acceptable and will not be repeated".
A Tory source said: "It was a mistake and inappropriate. We deleted the tweet as soon as we realised the origins of the picture."
A Labour source said the image of the Browns had been taken when they attended a memorial an event marking the 65th anniversary of the end of the war in Europe.
The composite picture was first used in 2010 by the Sunday Times to illustrate a piece about the couple leaving 10 Downing Street.
CCHQ was encouraging Twitter users to come up with jokey versions of play names, such as the Comedy of Errors, to celebrate Shakespeare's 450th birthday, using the hashtag #LabourPlays.