Lord Steel says he quizzed Cyril Smith over sex claims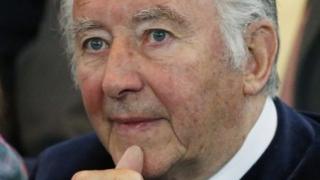 Lord Steel said he challenged Cyril Smith in 1979 about allegations he abused boys at a Rochdale hostel.
The ex-Liberal leader told BBC Radio 4's The World at One the claims in Private Eye dated back to Smith's time as a Labour councillor in the 1960s.
Smith told him police had investigated the claims and taken no action.
Asked if he had looked into rumours of Smith's behaviour while a Liberal MP, Lord Steel said: "We are a political party - not a detective agency."
He added: "Idle gossip is not a basis for any inquiry at all and my basic point is not a single story emerged - not even a rumour emerged - about him misbehaving as an MP.
"If that had happened of course we would have inquired."
He said he would not have recommended Smith for a knighthood in 1988 if he had had "the slightest inkling" of allegations that he had abused young men while an MP.
Cyril Smith, who was the Liberal MP for Rochdale from 1972 to 1992, died in 2010.
'A different era'
In 2012 Greater Manchester Police launched an investigation into historical claims Smith abused young boys in the 1960s while secretary of the Rochdale Hostel for Boys Association.
He had been accused of abusing eight youngsters at the Cambridge Hostel in the town by spanking and touching them.
Three separate files were passed to the director of public prosecutions and the Crown Prosecution Service, although on each occasion no prosecution was pursued.
Lord Steel said it was for the police and not the Liberal Democrats to explain why no action had been taken on the allegations in the past.
He added: "This was a different era. Corporal punishment was permitted. It would be totally illegal now. There would be no question he'd be up for assault now but in those days it went on."
Asked why he, as Liberal Party leader, had not taken any action at the time, he said: "I had no locus in the matter at all.
"They were ancient allegations about his time as a local councillor, nothing to do with his life as an MP, and anything that's happened since then, which has emerged since then, was not known to me or to anybody else."
Cover-up allegations
Asked if Smith should have been prosecuted, Lord Steel said: "It sounds as though he should have been, yes, and certainly if these things happened today he would undoubtedly be prosecuted.
"A man is innocent until proved guilty. I hope these current inquiries will lead to some conclusion. I think the victims deserve to have their questions answered."
Lib Dem leader Nick Clegg has said the party had asked every current Lib Dem MP and peer who was around at the time of Smith's alleged abuse if they had known anything and none said they had.
Lord (David) Steel, who led the Liberals from 1976 to 1988 before the merger with the SDP to form the Liberal Democrats. said: "I don't think I was included in that. I don't remember being asked about it."
Liberal Democrat sources later told BBC News senior party managers did speak to Lord Steel in 2012 about the allegations surrounding Smith.
The World at One also interviewed a former member of Rochdale Young Liberals, who said that Smith abused him after recruiting him to the party as a teenager in 1979.
"Cyril would say, 'Let's go and do some door-knocking,' and he would take me out on a drive on the moors above Rochdale," where the abuse had taken place, said the man, speaking under condition of anonymity.
"I was shocked. I just froze. I had never had a sexual experience. The first time, it was something alien to me."
Smith denied allegations
The man said Smith had later groped him in the House of Commons after inviting him to Parliament.
In a separate development, Greater Manchester Police are to investigate whether officials tried to cover up sexual abuse at Knowl View, a special school in Rochdale, in the 1970s. Smith, who was a governor at the school, is one of 11 alleged suspects.
Officers are already investigating historical allegations of abuse at Knowl View, but they will also examine claims in a recent book by Rochdale's Labour MP, Simon Danczuk, of a cover-up by police, council officials and MI5.
Rochdale council said it was widening the scope of its own inquiry into Knowl View, which is now closed.
The inquiry will review the council's conduct between 1961 and 1995, when sexual or physical abuse is alleged to have taken place.
Smith's family have said he always denied such accusations and said on Monday they welcomed the review.
Mr Danczuk said he believed Lord Steel "still had questions to answer" following his World at One interview, and he repeated his call for a full-scale public inquiry into all the allegations about Smith.