We Demand a Referendum Now Party launches campaign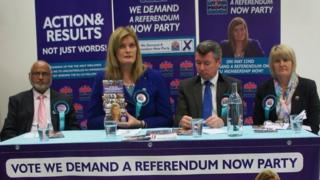 The We Demand a Referendum Now Party has launched its campaign for elections to the European parliament which are set to take place in the UK on 22 May.
The party currently has one MEP for the West Midlands region, Nikki Sinclaire, who was elected for UKIP in 2009.
Ms Sinclaire, who left UKIP in 2010, said: "We have just one policy; to force a referendum on EU membership."
"However, my track record proves that I'm an MEP who is out there working for the community," she added.
The party is fielding a full slate of seven candidates in the West Midlands electoral region, but is not standing in any of the UK's other nations or regions.