Institute for Government warns on coalition's final year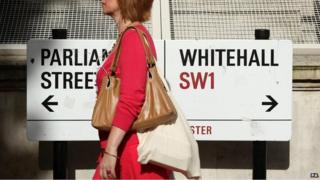 The Conservatives and Lib Dems should agree a set of rules on policy-making in the last year of the coalition, a Whitehall think tank has said.
The Institute for Government said clear guidance for civil servants is needed so their impartiality is maintained.
It has found that some ministers from one party try to exclude those from the other from policy discussions.
The body reached its conclusions after interviewing a string of senior civil servants on condition of anonymity.
Published one year before the general election, the report notes that the civil service should maintain a clear divide between government and party business.
But in a single-party administration "officials are often asked to carry out analysis or provide advice on policy ideas that the party of government is considering for its manifesto", it said.
In a coalition this "grey area" becomes more complicated, with officials potentially being pulled in two different directions by competing ministers.
The report found that the way Whitehall coped with the coalition varied from department to department, often depending on the personality of the secretary of state.
It highlighted the Home Office pilot scheme that saw billboards on the sides of vans telling illegal immigrants to "go home" as a situation where "an actual policy pilot was rolled out without consultation with the other party".
In some ministries there was a culture of openness but in others policy development was sometimes carried out solely by one party "occasionally with explicit requests not to include the other side in discussions", it added.
In the foreword to the report, the institute's director Peter Riddell said: "There is an obvious risk at present of unfairness to the smaller party, especially when most departments are headed by secretaries of state of the larger party.
"But a broader danger for government is that, without clearer guidelines, caution will prevail and insufficient work will be undertaken on post-2015 policy options in areas of disagreement within the coalition."