Elections 2014: East Midlands Euro elections count task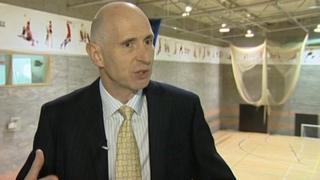 When the voting for the European Parliamentary elections is over, spare a thought for David Cook.
He is the senior council boss with the responsibility for ensuring the smooth running of the ballot and the count in the East Midlands.
It will be sometime after midnight on Sunday that David Cook hopes to be able to put his feet up and say "job done".
He is the chief executive of Kettering Borough Council and for this election the returning officer for the entire East Midlands.
The region will have voted for the five MEPs to represent us in Brussels and Strasbourg. They will make up the 751 MEPs in the new parliament for the next five-year term.
And the logistics of running such a vast election operation is huge.
"There are up to 20,000 staff helping at the 3,000 polling stations involved in Sunday's count," he said.
"Bringing that all together, coordinating it and coming to some sensible result that everyone feels confident about, well, that'll be quite a challenge."
Three-day delay
It is expensive - the election for the East Midlands Euro constituency alone will cost £5.7m.
There are 3.5 million voters eligible to vote. At the last Euro election, the region's turn-out was 37%, slightly higher than the national average.
So, even if one million votes are to be counted, that's also a big operation for David Cook to mastermind.
On Sunday evening, the count will get under way at 40 different centres around the East Midlands. But why the three-day delay after the Thursday vote?
"They can't be counted if people are still voting in other parts of Europe," said Mr Cook.
"Italy will still be voting up to 10 o'clock on Sunday evening."
Once each of the East Midlands count centres has a result, they will be fed into the regional results hub at the Kettering Conference and Sports Centre.
As Kettering's returning officer, David Cook will also oversee the results for his corner of Northamptonshire. They are being held in the same venue.
Although the final regional tally may have to wait until the early hours of Monday, David Cook hopes to release details of some of the early declarations from the local counts.
"For the media and the party workers, we should get an indication of the trend in voting patterns and make an informed calculation of the share of the vote by about 10.30pm," said Mr Cook.
But the count may offer unexpected surprises.
He added: "With an election count on such a large scale, there are bound to be problems or hold-ups."
"That happens. I just hope they can be ironed out quickly so we are not too late getting home."