Clegg 'not out of the woods' despite Oakeshott's exit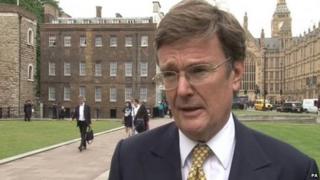 Lord Oakeshott has never been a fan of Nick Clegg. Like his old friend Vince Cable, he is a former Labour Party member who joined the SDP.
He would have felt a little more comfortable if the electoral arithmetic had enabled the Liberal Democrats to form a coalition with Labour.
But he genuinely felt that, under Mr Clegg's leadership, after the next election his party could end up having far too few MPs to coalesce with anyone.
He hoped his polls in marginal constituencies, and in the Lib Dem leader's own seat, would provide the ammunition for those who wanted to fire Mr Clegg.
Despite dire election results, Mr Cable kept his powder dry and the polls were leaked - or rather given - to the Guardian this week.
Facing disciplinary proceedings, Lord Oakeshott fell on his sword. But in doing so, he made clear he still wanted to kill off Mr Clegg's continuing leadership.
He published a new poll suggesting that the Lib Dem leader's ally Danny Alexander could also lose his seat.
But his parting shot at the party leadership has also ricocheted off his long-standing colleague Mr Cable.
Away in China
It is usually when foreign leaders go on a trip abroad that coups take place. The same thing may have happened in reverse to Mr Cable.
He is on a trade mission to China and, when news of the peer's polling broke, he issued a statement denouncing Lord Oakeshott's actions as "unacceptable".
Warming to his theme, he declared: "Commissioning and publishing polls without the consent of the Member of Parliament, as in the case of [Nick Clegg's] Sheffield Hallam, is utterly reprehensible."
The party leadership had said the money spent on the polls could be better used for campaigning. Indeed, they said it had been "shoddy" not to do so.
But in his statement, the Lib Dem peer suggests Mr Cable knew exactly what he was up to, and said: "Several weeks ago, I told Vince the results of those four polls."
This could therefore permanently dent the business secretary's credibility and make his criticisms of his friend's actions look politically convenient.
So far, no new statement challenging this version of events has been issued from the Far East.
So when he returns from his trade mission, Mr Cable will no doubt be asked if he told the leadership that his friend was spending money on polls on the party's prospects.
These events have clearly strengthened Mr Clegg's position but he is not out of the woods yet.
The necessary 29 MPs are not going to topple him from his position but he could be undermined if 75 local parties attempt to do so.
The Birmingham Yardley MP John Hemming is consulting his local party on Mr Clegg's future and the MP himself has declared he is "not a fan" of his leader.
So Mr Clegg's supporters, having seen off Lord Oakeshott, may have to turn their attention to extinguishing the slow-burning fuse of grassroots discontent if he is to lead his party out of the trenches at the 2015 election.