David Cameron steps into extremism row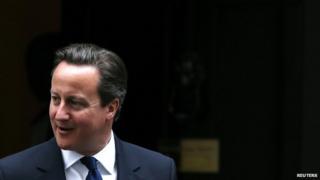 David Cameron has asked for a full account of the row between the home secretary and education secretary over allegations of extremism in schools.
Theresa May has accused Michael Gove of not dealing with the alleged Islamist plot targeting Birmingham schools.
It is understood Mr Gove believes the Home Office does not react strongly enough to extremism generally.
Earlier, the pair issued a joint statement insisting they were "working together" on the issue.
The BBC's political editor, Nick Robinson, said the row amounted to "an old-fashioned Whitehall turf war", with two senior ministers differing over how to combat Islamic extremism.
'Got a problem'
It comes in the wake of the so-called "Trojan Horse" allegations of a takeover strategy by a hardline Muslim group targeting state schools in Birmingham.
In a letter, Mrs May has said: "The allegations relating to schools in Birmingham raise serious questions about the quality of school governance and oversight arrangements."
She added: "Is it true that Birmingham City Council was warned about these allegations in 2008? Is it true that the Department for Education was warned in 2010? If so, why did nobody act?"
Figures close to both ministers briefed the media after the Times newspaper reported clashes between the pair.
A Home Office source hit out at Mr Gove's department, saying: "The Department for Education is responsible for schools, the Home Office is not.
"They have got a problem and they are trying to make it someone else's problem."
But those around the education secretary pointed out it had been his view that for over a generation there had been a reluctance in Whitehall to confront extremism unless it developed into terrorism - and his criticism did not relate specifically to the current home secretary.
'Bad government'
Senior Conservative figures sought to play down the spat, with party chairman Grant Shapps saying it was a "perfectly normal part of government".
Cabinet minister Chris Grayling accepted there were "tensions" within the government but added: "Sometimes the tensions are overplayed."
The justice secretary told BBC News: "It's been very noticeable today that both Michael Gove and Theresa May have paid tribute to each other's work.
"They're both valued colleagues, they're both doing an excellent job.
"We have a difficult problem with extremism in parts of our society. We're working together to try to tackle it."
But shadow home secretary Yvette Cooper urged Mr Cameron to intervene to prevent what she called "bad government".
"For two such senior ministers to launch a vitriolic public blame game in this way is appalling and irresponsible when they should be working together to sort out such serious problems," she said.
Three of the 21 Birmingham schools inspected in the wake of the allegations have published the findings of their Ofsted reports.
They are rated "outstanding" or "good", although one urges governors to prepare students for "multicultural Britain".