Ministers hail thrift drive after saving £14.3bn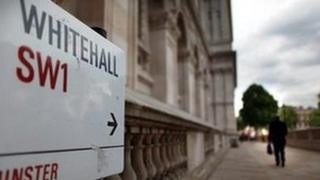 Ministers have said there will be "no let-up" in the drive to reduce waste in Whitehall after £14.3bn in efficiency savings were found last year.
The amount saved annually across central government has risen each year since the coalition came to power in 2010, according to the Cabinet Office.
In 2013-4, savings included £5.4bn from renegotiating commercial contracts and £4.7bn from civil service cuts.
A further £4.1bn came from property, digital and project management savings.
The Cabinet Office said savings yielded last year exceeded the £10bn achieved in 2012-3, the £5.5bn in 2011-2 and the £3.75bn in 2010-11 when its efficiency and reform group was first established.
'Good progress'
The figures have been externally audited although they have not been reviewed by the National Audit Office.
Cabinet Office minister Francis Maude said last year's government economising was equivalent to saving each household in the UK £850.
"This is good progress and I want to thank the civil servants who made this happen," he said.
"But we know there's so much more to do to address the legacy of wasteful spending and renegotiate over-fat contracts which are yet to expire.
"So there will be no let up and I look forward to announcing even greater savings next year."
The Taxpayers Alliance said it congratulated the government but the scale of the savings was a "sad testament" to the amount of past waste.
'Frittered away'
"Those lost billions could have been used for essential services or left in people's pockets but instead taxpayers' money was simply frittered away," said its chief executive Jonathan Isaby.
Last year, the public spending watchdog said the processes put in place by the government to calculate the savings had been strengthened and it believed the methodologies used were sound.
But it said uncertainties about the "underlying data" from individual departments meant it had not attempted to assess the accuracy of the total amounts claimed.
It also said the government must make clear the savings comprised "a mix of reduced spending, plans to reduce spending, one-off receipts and costs transferred to others".