Minister Anna Soubry breaks up cafe brawl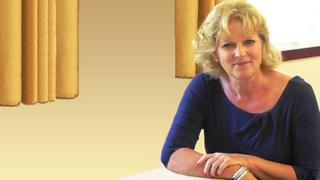 Defence minister Anna Soubry showed off her diplomatic credentials when she broke up a dispute in a cafe.
The Tory MP, who describes herself as a "tough old bird", stepped in when she spotted a man allegedly brawling with staff in Pret A Manger.
The mother-of-two, 57, stood between the group before blocking the man from returning to the cafe in Westminster, central London.
"I was desperate to avoid a fight on the pavement," she told the BBC.
Ms Soubry said she came across the fracas on her way to the Horseferry Road branch of Prêt a Manger at 7am on Tuesday.
"There was a rough sleeper with a lurcher dog, and he was trying to get in," she said.
"He was being blocked by two Prêt staff and he looked very aggressive - I thought it was going to develop into a very angry situation.
"I stepped in between the staff and the rough sleeper and I said to him: 'Look at me - stop it, stop it.' I was desperate to avoid a fight on the pavement because I knew it would lead to serious trouble."
Ms Soubry, a former criminal barrister and TV reporter, said she believed being a woman stopped the brawl going any further.
Elected as Broxtowe MP in 2010, Ms Soubry became the first female Defence Personnel, Welfare and Veterans' Minister in October 2013.
A Metropolitan Police spokesman said a man was arrested on suspicion of assault following the incident in Horseferry Road at around 7am on Tuesday.