Civil action against MP Hancock will not go to trial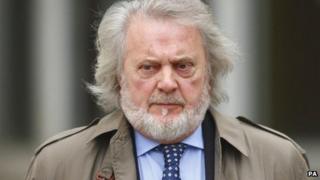 A civil action against MP Mike Hancock, alleging he sexually assaulted a female constituent will not go to trial as planned next week.
The two sides have been negotiating over a possible settlement, which could include an apology from the MP.
The police decided not to pursue charges in the case last year.
The MP for Portsmouth South has denied the claims, but he was suspended from the Lib Dems after he was found guilty of breaching standards codes.
Mr Hancock had been due to face the allegations in the High Court, but the BBC's Peter Henley said the trial would not now take place.
In a statement, the solicitor for the alleged victim said they hoped to be able to announce details of any settlement reached in the next week.
"The parties have been in negotiations and have agreed to vacate the trial date," they said.
Mr Hancock, who has been an MP since 1984 and a councillor in Portsmouth, was arrested in 2010 after a complaint was made about his behaviour towards a vulnerable constituent who had a history of mental health problems.
Hampshire Police decided not to press charges following an investigation.
But an independent report produced for Portsmouth Council in 2013 found there was compelling evidence of "serious and unwelcome sexual behaviour" by Mr Hancock towards to the individual concerned.
Mr Hancock now sits as an independent in the Commons. He was admitted to the Priory Hospital in February suffering from depression and lost his seat as a councillor in May.