Passports make for toxic politics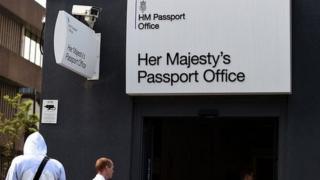 If you look at the numbers, you can put the delay in passport applications into some sort of context.
The Passport Office processes 5.7 million new or renewed passports each year. At any one time, it is dealing with just under half a million applications.
Today the prime minister said that of those, right now, about 30,000 are taking longer than they should to process. The turnaround target is three weeks.
The Home Office says this is because there has been a massive surge in applications in recent months as the economy improved, more than at any time in twelve years.
Labour and the Public and Commercial Services Union blame job cuts at the Passport Office and its additional responsibility for applications from overseas.
Either way, the delay means that a minority of people are not getting their passport when they should and for them it is a massive inconvenience.
But if you ask the unions how many people are being affected, they say it is difficult to assess the numbers and that is the kind of question they hope the chief executive of the Passport Office will answer when he comes before MPs next week.
Ed Miliband tells MPs that "tens of thousands of people...are finding their holidays are being cancelled because they are not actually getting a passport".
But the Association of British travel Agents say there is no evidence for this. The truth is that most people are still getting their passports on time. And David Cameron accused the Labour leader of trying to frighten people.
Yet Whitehall is pulling out all the stops to resolve this problem. Passport staff are working round the clock, seven days a week.
Hundreds of civil servants are being drafted in from visa and immigration departments to man the helplines. A new passport office is being opened in Liverpool while existing offices are opening earlier and closing later.
And that is because passports make for toxic politics. Ministers can remember the computer problems in the late 1990s that led to queues around the block at the Passport Office and caused Labour such a political headache.
They know that although the relative numbers affected may be statistically low, the impact on their lives can be great. Holidays can be missed. Jobs and contracts can be lost. Loved ones can die before they are visited. And that can make for some very angry voters.
For many of them, if they pay their taxes automatically through PAYE and do not claim benefits, the application for a passport may be one of the few occasions when they engage directly with the state.
And if they do not get their passport on time, they will have a pretty dim view of government.
This is where it really matters. This current government's raison d'être is one of economic competence. Its message to the nation is that only it has the ability to fix the economy and no one should trust the other side with the job.
But if people begin to think that the government cannot even issue passports efficiently, they might begin to doubt if they can run the economy efficiently. It is a charge that Labour is already beginning to make.
So this is why the government is throwing substantial resources at a problem to make sure it does not become a crisis.
And the unspoken concern around Whitehall is that it could become a crisis if it becomes a self-fulfilling prophecy, if people hear about the problems and rush to get their own passport applications in the queue.
Any government that makes it difficult for voters to go on holiday is a government that will lose those votes.