Trio of MPs honoured in Queen's Birthday Honours List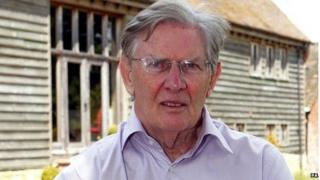 Winston Churchill's grandson, one of Parliament's most longstanding Eurosceptics and a deputy Speaker of the Commons have all been recognised in the Queen's Birthday Honours List.
Tory MPs Nicholas Soames and Bill Cash are to be knighted while Labour's Dawn Primarolo is to become a Dame.
Mr Soames, who followed his grandfather into Parliament in 1983, said he was "profoundly honoured and thrilled".
Mr Cash, best-known for opposing EU integration, said he was "delighted".
The Conservative MP for Stone in Staffordshire, Mr Cash was calling for a referendum on the UK's membership of the European Union long before the mainstream party leaders were willing to consider the idea.
An MP since 1984 - initially for Stafford - he was a thorn in the side of Tory Prime Minister John Major as a ringleader of backbench rebels against the Maastricht Treaty in the early 1990s.
He has been chairman of the Commons European Scrutiny Committee since 2010. He has also fought for women's rights, tabling a Gender Equality in International Development Bill which became law this year.
"I am greatly honoured and delighted to receive this knighthood," Mr Cash said.
"Having been in the House for a long time and having devoted so much of my time as a backbencher to my determination to uphold parliamentary sovereignty and to have a referendum on the Europe question and to oppose European integration, I believe that we are now moving in the right direction.
"Raising the question of parliamentary sovereignty was regarded as unhelpful in the 1990s - it is now regarded as essential."
'Small contribution'
Mr Soames represents the fourth generation of the Churchill family to represent the Conservatives in Parliament and to achieve ministerial office.
He entered Parliament as the MP for Crawley in 1983, and has represented Mid-Sussex since 1997. Mr Soames was a defence and agriculture minister under John Major.
"I am profoundly and deeply honoured and thrilled, not only for me but also for my family," he said.
"I hope that this honour is in recognition of my contribution to public service. I have been an MP for over 30 years, I was a minister in John Major's government, including four brilliantly happy years as a defence minister.
"I love Parliament and I hope I have made a small contribution, alongside many others, to the public and political life of this country."
'Complete surprise'
Ms Primarolo, one of four deputy speakers in the Commons, is standing down from Parliament next year.
Once dubbed "Red Dawn" for her leftist political views, the MP for Bristol South served as a Treasury and education minister under Tony Blair and Gordon Brown between 1997 and 2010.
"This has come as a complete surprise to me, but I am obviously immensely pleased," she said.
"I hope that this honour recognises not just my work in Westminster but also what I have achieved working with the people of Bristol South, like the building of the South Bristol Community Hospital."
Other public servants to be honoured include Rhodri Walters, a clerk in the House of Lords; Oonagh Gay, head of the Parliament and constitution centre in the House of Commons Library; and Michael Cavendish, a civil servant at the Cabinet Office.
Former Parliamentary Standards Commissioner Elizabeth Filkin, who in 2012 produced a report warning of the "serious harm" caused by the close relationship between the media and parts of Scotland Yard, receives a CBE.