MPs reject Labour push for watchdog to audit manifesto claims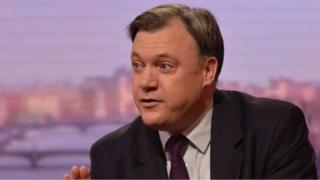 MPs have rejected a Labour plea to back the independent costing of major political parties' spending plans.
Shadow chancellor Ed Balls says allowing spending watchdog the Office for Budget Responsibility to review their manifesto claims would reassure the public their "sums add up".
He says he needs cross-party agreement to take the measure further, stressing that Labour has "nothing to hide".
But Chancellor George Osborne is opposed to the idea.
He has insisted that the OBR was set up in 2010 specifically to provide growth and borrowing forecasts and assess the impact of government policies on its own fiscal targets.
Sceptical public
OBR boss Robert Chote has said the move could benefit policy-making but suggested it might be better to wait until the 2020 general election campaign.
"Putting it bluntly, if Parliament wished us to play this role in the 2015 election, we would need a clear steer in the very near future to have any hope of putting the necessary practical arrangements in place in time to deliver a smooth process," he told MPs in March.
But Mr Balls, who will be pushing the plan in a debate and vote in the Commons on Wednesday, insisted that if cross-party agreement could be reached now, the details and legislation could be worked out over the summer.
"It's important that people see that our sums add up - that every commitment we make has been properly costed," he told BBC Radio 4's Today programme.
"I want that independent certification from the OBR - I want that to be available to all the political parties.
"I know that the public is sceptical about politics at the moment - clearly all parties have difficulties here."
Work together?
Mr Balls said he had spent months trying to get Mr Osborne engaged because without cross-party agreement the measure could not go ahead.
The checks would be available to all parties that had at least 5% representation in the House of Commons, he said.
"The only person who has accused me of making uncosted spending commitments is the chancellor, who now seems to be the one person who doesn't want Labour's manifesto to be independently audited," he told Today.
"Why? Because his charges against me don't add up or he has something to hide about his own approach to his manifesto.
"In a totally cross-party spirit, I've said, 'Let's do this together.'"
The Lib Dems have said the idea of letting the OBR cost opposition parties' spending commitments has merit but is unlikely to be viable in time for next year's general election.
At the end of Wednesday's debate, MPs voted against Labour's plan by 289 votes to 218, a majority of 71.