Unite presses Ed Miliband for EU referendum pledge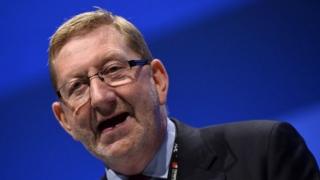 Labour's biggest union backer Unite is urging the party to match the Conservatives' pledge to offer an in-out referendum on Europe.
General secretary Len McCluskey said Labour will be a "hostage to fortune" if it does not support a vote.
Labour leader Ed Miliband has all but ruled out a poll unless further powers are transferred to Brussels.
But Unite fears this stance will be a "millstone" around Labour's neck at the next general election.
Earlier this week, Unite confirmed it would continue to be Labour's biggest financial backer in the run up to the 2015 election.
But at its annual conference on Wednesday, Unite delegates backed a motion urging the Labour leadership to reconsider its approach to a referendum on Britain's membership.
'Exposed'
Mr McCluskey said silence on the issue would leave the field open "for UKIP and others to exploit people's real concerns in order to win votes for their right-wing agenda".
"I would not like to be Ed Miliband explaining why he is not joining other parties in offering the British people a vote on something that is clearly a growing source of public concern," he said.
"So it is time that the Labour leadership took a new look at the referendum question."
Chris Leslie, shadow chief secretary to the Treasury, said backing a referendum would be a "distraction" that would "put at risk" the fragile nature of Britain's economic recovery.
"It's a crazy approach to take," he told BBC2's Daily Politics.
But Unite members were entitled to their own views, the shadow cabinet minister added.
Mr McCluskey said the union did not want a vote because it thought Britain should leave the European Union.
"We seek a referendum rethink in order to help get Labour into power here in Britain," he said.
"Without such a pledge our party will stand exposed. UKIP will be strengthened in some key constituencies. The Tories will hypocritically charge Labour with being anti-democratic.
"In a tight election this can make the difference - so let's give the British people a say on the EU, and when they do, Unite will be there arguing for the benefits of internationalism and a real social Europe."