Lib Dems reject Lord Rennard bid to overturn suspension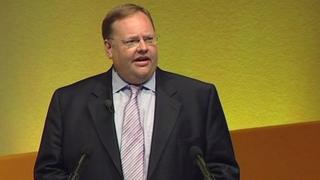 Liberal Democrat officials have rejected an attempt by Lord Rennard to overturn his suspension from the party.
The former chief executive of the Lib Dems had been suspended amid claims that he had brought the party into disrepute by failing to apologise over sexual harassment allegations.
The investigation into whether the peer brought the party into disrepute will now begin and party aides said they expected it to go on for some weeks.
He apologised in May for his behaviour.
An internal inquiry into the allegations by an independent QC had said there should be no further action against Lord Rennard but he was told to apologise - something he had initially refused to do.
This prompted some Lib Dem members to complain that his response had brought the party into disrepute.
Lord Rennard challenged his suspension from the Lib Dems, saying it was against party rules.
A Lib Dem source said: "His appeal against his suspension has been rejected. He remains suspended while the investigation continues."
The result of the appeal was revealed to the BBC before Lord Rennard, prompting a furious response from his supporters.
One friend said the "shocking" and "mischievous" leak was "in total defiance of fair process" and had caused "great distress" to Lord and Lady Rennard.
He said there should be an investigation and said the issue would be raised at the Lib Dems' weekly meeting on Wednesday.