Tory MPs call for rethink on government Israel policy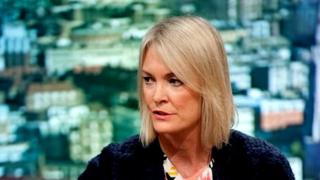 Prime Minister David Cameron is coming under pressure from Conservative backbenchers to take a more robust stance over Israel's actions in Gaza.
Margot James - previously regarded as a pro-Israeli voice - has condemned its "wholly disproportionate" attacks.
And former ministers Sir Peter Bottomley and Alistair Burt have also raised concerns about Israel's actions.
A Foreign Office spokesman said the government believed there had to be an unconditional ceasefire in Gaza.
Israel says it is defending itself from attacks by Palestinian militants and it blames Hamas for civilian deaths in Gaza, saying fighters deliberately operate from civilian areas.
Since Israel began its offensive in Gaza on 8 July, 1,422 Palestinians have been killed and 8,265 injured, most of them civilians, according to Gaza's health ministry.
'Just not working'
UK MPs are on their summer break, but the BBC News Channel's chief political correspondent Norman Smith said it was clear there was growing disquiet among backbenchers.
It comes as the US government said the shelling of a UN shelter in Gaza was "totally unacceptable and totally indefensible".
Mr Burt said that statement from the US - Israel's closest ally - was "really quite extraordinary".
He stressed that he was not speaking for the UK government, but told Channel 4 News Israel's policy of "trying to get at Hamas through women and children" was "just not working and it's wrong".
"It's not proved effective in the past, it doesn't deter Hamas, it doesn't secure the peace of Israel or of Gaza, so something more needs to be done," he said.
'Devastation'
A former Conservative defence minister, who did not wish to be named, described the Israeli action as "disproportionate... unforgiveable and deliberate".
He called on the government to adopt a much more robust and vigorous approach in challenging Israeli actions.
Sir Peter Bottomley has written to the Israeli ambassador in London to protest against the Israeli army's treatment of Palestinians.
The letter accuses Israel of appearing to "value differently the lives of Israelis and Palestinians".
The MP said he had handed a copy of the letter to the Conservative Party's Chief Whip, Michael Gove.
Speaking on the BBC News Channel, Sir Peter said: "If Israel is relying on other people to be silent, they will go on with a lack of proportionality and the devastation and the death.
"Anyone who looks at the pictures of what is going on in Gaza, which is a very enclosed area, most know that the Israelis know what they are doing - and that what they are doing is wrong. Many Israelis know it is wrong."
'Unacceptable'
Stourbridge MP Margot James, a parliamentary aide to Commons leader and former Foreign Secretary William Hague, has called on the government to "rethink" its policy, according to Channel 4 News.
In a letter to Foreign Secretary Philip Hammond, she wrote: "My constituents, not all of them Muslim, regard the Israeli action as wholly disproportionate to the threat posed by Hamas.
"I ask that the government rethinks policy towards the conflict in Israel and the Palestinian territories.
"The scale of suffering in Gaza is far too great, the loss of life, and particularly the lives of children and other vulnerable individuals, cannot be justified on the grounds of defence in proportion to the level of threat faced by Israel from Hamas.
"I also think that we should make it clear that it is unacceptable for Israel to just dismiss US proposals for peace without any debate whatsoever."
'Rockets and tunnels'
Questioned about Ms James' call for a rethink, an aide to Mr Hammond told BBC News: "The foreign secretary and the prime minister have been very clear that we need unconditional ceasefire and that needs to happen immediately."
A Foreign Office spokesman later said the UK was "deeply concerned about the current situation" and that "all our efforts" must be focused on achieving a ceasefire.
"Israel has the right to defend itself, but must do so in a way that complies with international law," the spokesman added.
"After a ceasefire has been agreed, we can then move to more substantive discussions on the underlying issues, including Israeli restrictions on Gaza, the conditions in Gaza and the threats to Israel from rockets and tunnels."
Tensions rose after three Israeli teenagers were kidnapped and killed in the West Bank last month, then a Palestinian teenager was kidnapped and killed in Jerusalem on 2 July.
Israeli air strikes on Gaza and rocket fire from Gaza into Israel - for which Islamist group Hamas claimed responsibility - increased, and on 8 July Israel launched Operation Protective Edge, which it said was aimed at stopping rocket attacks and destroying Hamas' capabilities.
Israel says it will not stop its operation in Gaza until all the tunnels - which militants use to infiltrate Israeli territory - have been destroyed.
A senior Israeli official has told the BBC that 70-80% of Hamas' offensive tunnel network into Israel has been "neutralised", but said the operation would not stop until all had been destroyed.