Clegg urges restrictions on new EU migrants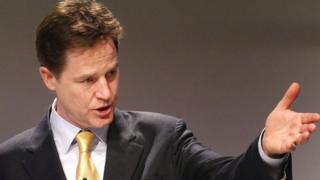 Nick Clegg has called for tighter controls on migrants coming to the UK from new EU states, saying people have "lost faith" in the government's ability to manage immigration.
He said new EU members must wait longer than the current seven-year limit before their citizens have the right to settle and work in the UK.
The deputy PM also unveiled plans for a clampdown on sham marriages for visas.
Employers using migrants as cheap labour would be targeted, he said.
In a speech, Mr Clegg insisted freedom of movement among EU states was "a good thing", although it was "never intended as an automatic right to claim benefits". However, leaving the EU would strike an "immense" blow to UK prosperity.
'Put on the brakes'
He said the rules must be changed for new entrants joining the EU, to avoid a repeat of the wave of immigration to the UK following the 2004 accession of eastern European states, including Poland.
This was in addition to the arrival of 60,000 Romanians and Bulgarians before restrictions on working in Britain were lifted at the start of the year.
"Is it any wonder - when people have been repeatedly told one thing only to then see another - that so many have lost faith in government's ability to manage the flow of migrants from new EU states?" Mr Clegg said.
Instead, when the EU enlarges in the future, stricter and clearer transition controls would need to apply to new member states, he said.
"We need to be prepared to go beyond the seven-year maximum for transition controls, depending on the size and economy of the country joining the EU and the extent to which we expect its nationals to look for work here," he said.
David Cameron has promised to get net migration - the difference between the number of people entering and leaving - to "tens of thousands".
He said last week that the UK would halve the time EU migrants without realistic job prospects can claim benefits to three months.
For Labour, shadow immigration minister David Hanson said: "Nick Clegg has some nerve. For four years the Lib Dems have voted with the Conservatives on their immigration policies, and have been part of a government focused on a net migration target they can't reach."
He added: "There now seems to be competing messages about what the Home Office is actually trying to achieve on immigration."
UKIP said Mr Clegg's call for tighter controls on EU migration was "hypocritical and naive" as the government could not cut net migration while Britain was "signed up to EU open border policy".
The party's immigration spokesman Steven Woolfe said: "Yet again it's a catastrophic error by a failing party leader who is flailing desperately and bleating for attention."