Miliband and Clegg 'had no time to write WW1 tributes'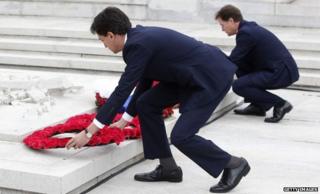 Labour's Ed Miliband and Liberal Democrat Nick Clegg were not given the chance to write personal messages on wreaths laid to commemorate the 100th anniversary of Britain entering World War One, their parties say.
Prime Minister David Cameron hand-wrote a tribute for the ceremony in Glasgow.
But cards supplied for Mr Miliband and Mr Clegg merely stated their jobs.
Labour and the Lib Dems said their leaders had been handed the wreaths "seconds" before they were laid.
All three party leaders paid tribute to those who served in World War One during a ceremony at Glasgow's Cenotaph.
A note attached to Mr Cameron's wreath read: "Your most enduring legacy is our liberty. We must never forget."
A spokesperson for the Department for Culture, Media and Sport said the same wreaths and pre-written messages had been provided to all wreath-layers.
'No opportunity'
"Some chose to write personalised messages," a spokesman said.
The card laid by Mr Miliband said only "From the Leader of the Opposition", while Mr Clegg's said "From the Deputy Prime Minister".
A Labour spokesman said: "Ed Miliband was not given the opportunity to write a personal message on the wreath and was only handed it seconds before [it was laid]."
A Lib Dem source said the gap between Mr Clegg being handed the wreath and laying it had been "a 10-second thing".
The wreaths were made at Lady Haig's Poppy Factory in Edinburgh.
A spokeswoman for Poppy Scotland said: "Our normal procedure is that we would just send the cards directly with the wreaths.
"We were asked to send [the cards] to the DCMS and the wreaths were sent through to Glasgow in advance, but the blank cards to London."
A government source said it was "usual" for the prime minister to write personal messages on such occasions. Downing Street declined to comment.