Will Clacton's voters opt for UKIP?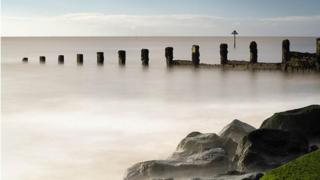 MP for Clacton Douglas Carswell has announced that he is leaving the Conservative Party and plans to force a by-election in which he will stand for UKIP. How receptive are his constituents?
Mr Carswell won 53% of the vote for the Conservatives in the 2010 general election, suggesting that it should be a very safe seat.
But the 2014 European parliamentary election provides some intriguing evidence to the contrary.
Clacton is entirely contained within Tendring District Council, making up 21 of its 35 wards, and voters in the council as a whole overwhelmingly backed UKIP last year, helping it win three of the seven available MEP seats for the East of England.
MEP elections 2014: Tendring council
Party
Votes
Vote share
UKIP
19,398
48%
Conservatives
9,981
25%
Labour
5,241
13%
Greens
2,604
6%
Liberal Democrats
848
2%
---
Pollsters have found that UKIP's appeal is strongest among older voters, and census data from 2011 makes clear the extent to which Clacton's population is greyer than the national average.
The seat has the second-highest proportion of over-65s in the country, and the second-lowest proportion of 25- to 44-year-olds.
---
Nowhere else in England and Wales has a higher proportion of one-person households in which the occupant is 65 or older.
Clacton also has the highest proportion of retired residents.
---
Analysis by Nottingham University's Matthew Goodwin
"We mapped all constituencies according to how favourable they were to UKIP based on the types of voters that were in those seats, and Clacton is the most favourable seat for UKIP in the country.
"The only thing that was preventing us from pointing this out was Douglas Carswell's large majority, which is 28%. He himself has over 50% of the vote locked down.
"So I do not think he will struggle at all to win the election under the UKIP banner - [partly] because of the demographics in Clacton, which are ideal for UKIP - this is a struggling, coastal seat, lots of older, white voters, few minority voters, it's classic left-behind territory - voters who feel they are not getting a say in Westminster, who feel they are getting left behind economically.
"But also don't forget that Douglas Carswell has spent years cultivating a local reputation as being away from the Westminster elite. From holding fish-and-chip suppers with voters to talking about getting out of Europe, clamping down on immigration, he is in essence a UKIP-type politician - under a different name.
"I expect that probably lots of his local activists, organisers and councillors will probably follow suit in switching over.
"The best-case scenario for UKIP is that the by-election opens up a rupture on the radical right of the Conservative Party and other Eurosceptic MPs begin to look around and think: 'If Douglas can do it then I can do it.'
"The worst-case scenario is that they go into the election with an MP, being able to say to voters, 'We're not a wasted vote, we've beat the first-past-the-post system in Clacton.' That is not a particularly bad scenario for a minor challenger in British politics."
Prof Goodwin was speaking to BBC Radio 4's World at One programme.
---
Nearly three quarters of Clacton's residents own their own homes. Nearly half of them do so without a mortgage.
Although 35.2% of census respondents reported that they were in "very good health", this was significantly lower than the national average of 47.1% - low enough to place the constituency bottom of the rankings in England and Wales.
Clacton's residents were much more likely than the national average to be in "fair health", topping the rankings for this category.
But they were also 15th most likely to be in "very bad health".
---
The third-highest proportion in England and Wales said they had no qualifications: 38.8%, against the national average of 22.7%.
Degrees and higher-level qualifications have been awarded to 13.4% of Clacton's residents, well below the national average of 27.2%, placing the constituency seventh from the bottom of the rankings in this category.
---
A quarter of residents have no passport, the 55th highest proportion in England and Wales.
The constituency also has lower proportions of holders of passports from elsewhere in the world.
The national average for residents holding passports from Middle Eastern or Asian countries is 2.0%; in Clacton the figure is 0.3%.
Similarly, 3.5% of residents of other constituencies hold non-UK EU passports on average, but 0.9% of Clacton's residents do.