What is life like for defectors who swap sides?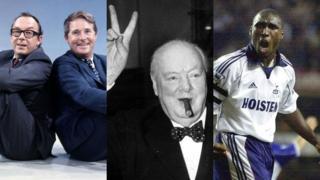 After making history by winning the Clacton by-election, Douglas Carswell has returned to Westminster as UKIP's first elected member of Parliament.
But, as he has admitted himself, his toughest challenges still lie ahead of him.
From the simple logistical issue of where he sits in the House of Commons as UKIP's solitary MP to how he votes when free from the close attention of a party whip, everything will be different from his previous life on the Conservative backbenches.
For those who very publicly and controversially change sides, whether in politics or in other walks of life, nothing tends to be the same again.
Speaking earlier this year, the footballer Sol Campbell said he was "shocked" at the anger that Spurs fans still felt towards him more than 10 years after he quit the club and joined north London rivals Arsenal.
While making clear he had no regrets about the move, the former England international - who went on to play for the "Invincibles" side that won the 2003-04 title without losing a game - said he felt the need to say sorry for the "hurt it inflicted" on Tottenham fans.
'Lost friends'
While employees change jobs and move to direct competitors all the time, it is the tribal loyalties inherent in politics - like sport - which makes such acts feel like betrayal to those who have been spurned.
Tom McNally, one of those who quit Labour for the SDP in the early 1980s, says managing personal relationships is the most difficult aspect of changing one's allegiance.
"When I joined the SDP from the Labour Party, Bill Rodgers told me, 'You will lose some old friends but make new ones.' So it proved to be."
Like Sol Campbell, the Lib Dem peer insists he has no regrets 30 years on "other than the hurt I caused to those with whom I had worked closely".
Unlike company bosses, who are often put on gardening leave for up to a year when they join direct rivals, Mr Carswell returned to the Commons less than 12 weeks after leaving it as a Conservative.
While they undoubtedly feel hurt, most Tory MPs have publicly refrained from personal attacks on their former colleague, describing his defection as a mistake rather than as an act of treachery.
They have largely spared their vilification for Mark Reckless, Mr Carswell's friend who has followed suit by also jumping ship to Nigel Farage's party and who faces a by-election next month.
Back in the fray
Many Tories will be hoping that the symbolic significance of Douglas Carswell's victory fades over time and does not have a long-term seismic effect.
There are plenty of examples of defections that caused shock waves at the time but, years later, scarcely register a ripple.
Labour Cabinet minister Reg Prentice's defection to the Conservatives in 1977 was highly controversial at the time but now is largely seen as a footnote, albeit a most prescient one, in the story of Labour infighting of the period.
In a different sphere, critics proclaimed the end of light entertainment on the BBC when Morecambe and Wise left for ITV in 1978, a shock move that led the BBC governors to consider lobbying the government to rein in their commercial competitor.
The duo had a successful relationship with what Eric and Ernie called the "other side" - they started their career there after all - but the ratings tell the story that it is their work for the BBC that still defines them in the public consciousness.
When Des Lynam also channel-hopped to ITV in 1998, it was said to be the final nail for BBC Sport, which had lost some high-profile events.
Although Match of the Day - albeit under a different name - followed him in the same direction a few years later, it ultimately returned to its original home after only three years.
On the other hand, there are moves that can be said to have genuinely influenced the course of history.
If Winston Churchill had not returned to the Conservative fold in the mid-1920s after 20 years in the Liberal Party, he surely would never have become prime minister - British history may have looked very different indeed.
"He tried at passing himself off as an independent but failed miserably," biographer Norman Rose says of Churchill's attempt - one of several in his long career - to redefine himself politically.
"So really there was no alternative but return to the Tories - as it was obvious he could not survive politically unless it was within the framework of a recognised party."
While many Conservatives never forgave him for "ratting and then re-ratting", events conspired to propel him into Downing Street in May 1940 and five months later to the leadership of his party.
Unlikely though it may have seemed at the time, he ended up leading his party for nearly 15 years, a 20th Century feat only bettered by Margaret Thatcher.
Although the Conservatives lost the 1945 election by a landslide, by that point he was impregnable and proved so for another 10 years, despite illness and infirmity.
"There was much talk and behind-the-scenes action to get rid of him but such was his new-found rank of world statesman that he was able to stay until 1955," Norman Rose adds.
So is Churchill's career arc an advertisement for politicians following their gut instinct and letting fate take its course?
Of the 28 Labour MPs who defected to the Social Democratic Party in 1981, hardly any ever made it into government, let alone No 10.
However, they did trigger the most significant realignment in British politics for 60 years.
Are we about to witness something of a similar magnitude happening again?
No matter how many other UKIP MPs make it to Parliament, Tom McNally - who did eventually taste life as a minister in the coalition government - says Mr Carswell is likely to be sustained by a "sense of political liberation" at "finding oneself among like-minds" outside of the Commons.
"I am not sure there is a template for floor-crossing," he adds. "Some do it with a spring in their step and never a backwards look. Others go with a heavy heart."
But of one thing he is sure. "There is no going back. Re-ratting can only be done successfully by a unique talent such as Churchill."