MP's concern over abuse probe chief Fiona Woolf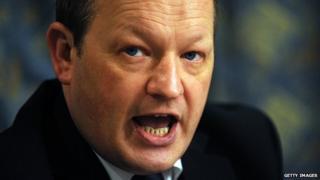 An MP has raised concerns about Fiona Woolf who is to chair an inquiry into allegations of historical sexual abuse.
Simon Danczuk told MPs: "I am disturbed by the apparent links between the new chair and Lord Brittan, who is alleged to be at the heart of the paedophile scandal and cover-up."
Commons leader William Hague said she would conduct the inquiry to the "very highest standards of integrity".
Ms Woolf is a City lawyer and Lord Mayor of London.
Her appointment to head the inquiry panel was announced last week.
She replaced retired judge Baroness Butler-Sloss who quit as head of the inquiry in July, saying she was "not the right person" for the job.
Mr Danczuk, who led calls for an inquiry, has been pressing Lord Brittan over an alleged dossier of evidence handed to the then home secretary in 1984 which was subsequently lost or destroyed.
Ms Woolf and Lord Brittan both sit on the advisory council of TheCityUK, a lobby group set up to promote the interests of Britain's financial services industry.
Further links between the two were alleged in an article in the Mail on Sunday.
Replying to Mr Danczuk's concerns in the Commons, Mr Hague said: "We are all anxious for this inquiry to get under way.
"Fiona Woolf has had a long and distinguished career.
"This is a very distinguished person, well able to conduct this inquiry with the very highest standards of integrity."
Baroness Butler-Sloss stood down after child abuse victims raised concerns that she is the sister of the late Sir Michael Havers, who was attorney-general in the 1980s when abuse is alleged to have happened.
The inquiry, which was set up in July, was prompted by allegations that figures in Westminster and Whitehall were implicated in covering up child sex abuse, and that police and other authorities did not properly investigate prominent offenders such as Jimmy Savile and Cyril Smith.