UKIP's 'caravan campaign' in Clacton by-election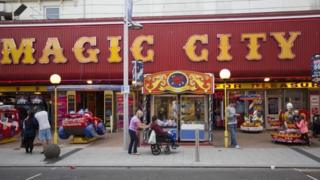 Former Conservative Douglas Carswell is leading a "caravan campaign" in Clacton as he tries to become UKIP's first elected MP.
Mr Carswell's new party is housing workers and volunteers at several caravan parks around the Clacton area as it throws all its resources into the by-election campaign.
The BBC understands Mr Carswell's campaign is focused on 15,000 residents who have "pledged" their support to him in the past.
His defection at the end of August stunned his then Tory colleagues and triggered the by-election.
Mr Carswell's move was so secret that even UKIP's long-standing chairman and the party's deputy leader did not know it was happening.
If he wins the by-election on 9 October he would be the UKIP's first elected MP at Westminster (a Tory defector, Bob Spink, briefly sat under the party's banner in the last Parliament) and it would mark the most significant success to date for Nigel Farage's party.
Key barometer
The UKIP leader promised an "earthquake" in British politics after his party came top in May's European elections.
Essex is a key area for UKIP. It made significant gains there in May's local elections, including on Basildon Borough Council, where its councillors are the second largest group.
Recent opinion polls suggest the key barometer seat of Thurrock is now a three way marginal between the Tories, Labour and UKIP.
The constituency of Clacton includes not just the seaside town but also parts of the surrounding area. Jaywick, just to the west, is one of the most deprived places in the country.
UKIP believes "benefit migration" - where people who are dependent on welfare payments move from areas like North London - has put extra strain on an area already short on sufficient housing.
But the BBC understands a key battleground in the election is the far more wealthy area of Holland-on-Sea, half a mile up the coast.
Staunchly Eurosceptic
It is here that UKIP is trying to reassure loyal Tories that their allegiance is to Douglas Carswell the man, not Douglas Carswell the (ex) Conservative.
This is a new fight for UKIP. It was only last year that the party set up an association in Clacton.
Mr Carswell is so staunchly Eurosceptic that the party did not feel justified in challenging him before that.
When he sensationally quit the Conservatives he didn't do it alone. Mr Carswell's office staff came with him as did three other members of the party.
A senior UKIP campaign source said he has also been given several assurances by senior members of the Conservative Party hierarchy in Clacton that they will neither campaign nor vote against him.
If he wins I'm told he can expect a "prominent role" in the party, aside from being its first elected MP.
It's not clear what that could be. UKIP has an elected deputy leader and recently formalised its top team to assign policy portfolios like home affairs, immigration and the economy, to its MEPs.
If he does not it's a bleak future. One senior party insider thinks if UKIP can't win Clacton in these circumstances then it has "no chance" come the 2015 general election - not just in Clacton but elsewhere too.
Double-digit lead
The pensioner who told me Douglas Carswell was "honourable but naive" is the type who could scupper UKIP's grand plan to finally realise that Westminster breakthrough.
As she made her way into the open primary where the conservative candidate was chosen - by party members AND non members like her - she said Nigel Farage would not "pull the wool over my eyes" about immigrants.
She is not in the majority though according to recent opinion polls, which suggest Mr Carswell has a sizable double-digit lead.
Nonetheless, the Tories are serious about Clacton. The list of visitor names scribbled on the wall in their campaign office includes Chief Whip Michael Gove, alongside some of the 30 or so other Conservative MPs who visited in a single day this week.
Prime Minister David Cameron is expected at some point before election day, the cars bringing him up the A12 forming a caravan of sorts.
---
The full list of candidates announced so far, in alphabetical order by surname, is:
Carswell, Douglas - UK Independence Party
Graham, Andy - Liberal Democrats
Southall, Chris - Green Party
Young, Tim - Labour
Watling, Giles - Conservative