Labour 'will have scope to limit spending cuts'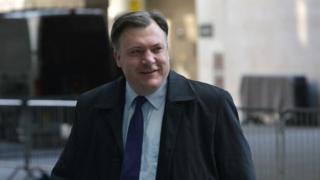 A future Labour government has scope to limit spending cuts by delaying its timetable for balancing the books, the Institute for Fiscal Studies has said.
The party wants to eliminate the budget deficit before 2020 if it gains power.
The IFS said that, if Labour waited until 2018-9 to meet this goal, rather than earlier, it would be able to reduce cuts to Whitehall departments' spending by £28.3bn.
But it warned no party had yet spelt out the "hard choices" needed.
Labour begins its annual conference in Manchester on Sunday, its last before next year's general election.
While much of the focus will be on the constitutional fallout of Scotland's vote last week to reject independence, there will be intense scrutiny of the party's economic and financial plans.
Labour is the first of the three main Westminster parties to hold its conference as the Liberal Democrats - who usually kick off the season - delayed theirs because of the referendum.
'Tough'
In its analysis, the IFS said the Conservatives, Labour and the Lib Dems would all have to further raise taxes, cut welfare or reduce levels of public services if they were to meet their targets.
Shadow chancellor Ed Balls, who will address the conference on Monday, has told the Guardian that policies have to be "costed and affordable" if they are to appear credible, while pledging that Labour will try to "release money for the NHS".
He said: "We are not just making big aspirational commitments. I don't think at the moment that adds up for people - they want nuts and bolts details."
Mr Balls has said he will balance the books and generate a budget surplus - meaning the government generates more cash than it spends - during the next parliament, set to last until 2020.
He has also said he wants to see national debt coming down during the same period and that a future Labour government will pass a law to ensure it adheres to "tough" and binding fiscal rules.
The IFS said Labour had not been "precise" about when it would meet the surplus target or by how much, and this would afford it some latitude if in government.
According to the latest forecasts from the Office for Budget Responsibility, the state will achieve a budget surplus equivalent to 0.5% of national income in 2017-8, rising to 1.5% by 2018-9.
'Looser'
Mr Balls has said Labour will increase the top level of tax back to 50%, from the current 45%, between 2015 and 2020.
He has also committed Labour to matching the coalition's spending plans in 2015-6 and has said further unspecified spending cuts will be needed after this.
If Labour sought to meet its surplus target in 2018-9, instead of a year earlier, the IFS said, it could potentially reduce the impact of post-2015 spending cuts from £37.6bn to £9.3bn.
Chancellor George Osborne wants to go further than Mr Balls and generate an absolute budget surplus - covering both capital as well as current spending - by 2020.
The IFS said this could leave Mr Osborne with less flexibility when it came to adjusting levels of spending and taxation than Labour or the Liberal Democrats.
But it added: "However, for both Labour and the Lib Dems this would, of course, come at the cost of debt declining less quickly as a share of national income than implied by either current government projections or the Conservatives' fiscal target."