Nick Clegg 'not capable of Labour coalition'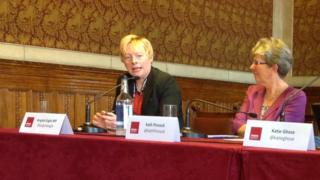 Nick Clegg holds the Labour Party in such "contempt" he is not "capable" of forming a coalition with it, a Labour frontbencher has claimed.
Shadow Commons leader Angela Eagle said Labour was aiming for a majority of its own at next year's election.
But if it did have to form a deal with the Lib Dems she did not think Mr Clegg would be able to - or would want to.
She said the Lib Dem leader was not trusted by those at the top of the Labour Party.
"I've been in deputy prime minister's questions a lot. Nick Clegg does not like the Labour Party," Ms Eagle told a fringe meeting at Labour's annual conference in Manchester.
"He spits his contempt for the Labour Party out at every angle. Every word he says in the Commons drips with that kind of thing and I wonder whether he, personally, would be capable, or even would want to, have a Lib Lab pact."
'Nasty'
She told the Fabian Society meeting there were areas where the two parties could agree, such as constitutional change and devolution, "particularly in light of David Cameron's extremely partisan and petty behaviour in the aftermath of the Scottish referendum".
But she suggested there was too ill feeling between those at the top of Labour and Mr Clegg and his team to make a coalition feasible.
"There is a lack of personal trust with some of the people who have gone into government with the Tories," Ms Eagle said.
She stressed that it was an academic debate as the Labour Party was aiming for an overall majority at next year's general election.
"There will be no pre-election pact. You can't stop individuals talking about a pact, but there will be no pre-election pact. We are going for a Labour majority."
She also poured cold water on suggestions of a deal with the Green Party, telling the meeting that its one MP, Caroline Lucas, who represents Brighton Pavilion, "spends all of her time in Brighton slagging the Labour Party off because she knows that if she loses her seat, she will lose it to the Labour Party".
Ms Eagle added: "We don't want to get into some kind of sado-masochistic relationship with Caroline Lucas. We want to take Brighton back and that is what we are trying to do."
Senior Lib Dems turned down invitations to speak at the Fabian Society meeting about the possibility of a Lib/Lab pact after the next election, leaving the party's case to be made by Kath Pinnock, the former leader of Kirklees Council, who is shortly to join the House of Lords.
She defended "pluralist" politics in the face of strong criticism of her party from Labour MP Emily Thornberry, who accused Lib Dems of being "nasty" and dishonest in their campaigning tactics and lacking in principles.