Shadow ministers facing cull if Labour enters government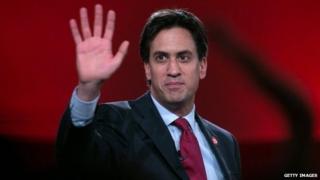 Labour leader Ed Miliband will have to sack one in five of his frontbenchers if he wins next year's general election with an overall majority.
He would have to fire even more of his shadow ministers if his party fails to win enough seats to govern on its own and goes into coalition.
Labour says it has 138 shadow ministers but in government Mr Miliband could only appoint 109 ministers.
"A whole load of people are going to be disappointed," one frontbencher said.
"In opposition it's great handing out these jobs, but the rules are clear and people who have been shadowing departments for years will be left out in the cold. It's not a great way to start a new government, is it?"
A Labour spokesman said: "All ministerial posts are in the gift of the prime minister."
Limits
One way around the rules would be to appoint some ministers without paying them.
But tinkering with the rules can lead party leaders into trouble, as the prime minister found out during his recent reshuffle.
David Cameron appointed Baroness Stowell as the new leader of the House of Lords, but paid her less than her predecessor Lord Hill because of other changes he was making to the cabinet.
The Ministerial and Other Salaries Act, passed in 1975, limits prime ministers to 109 ministerial salaries being paid at any one time.
The legislation is there to limit the amount of taxpayers' money spent on ministers' salaries, and to ensure there are sufficient MPs on the backbenches to hold a government to account.
The law also limits governments to appointing a maximum of 95 ministers in the House of Commons.
Should Labour win the general election, those ministers who avoid the chop will have their pay cut by 5% compared to what coalition ministers currently earn.
Shadow chancellor Ed Balls said the cut would then be followed by a pay freeze for ministers in a Labour government, until the party was able to "balance the books."