Labour conference: Cameron 'bottling' election debates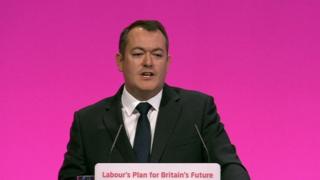 David Cameron is "bottling" talks about televised debates before the general election, Labour has claimed.
Shadow minister Michael Dugher suggested the prime minister "did not want to defend his record" by appearing on the same stage as Ed Miliband.
He told Labour's party conference he had written to Tory chairman Grant Shapps to "fix a time and place" for negotiations to begin in earnest.
Mr Cameron says he supports debates but has reservations about the 2010 format.
As opposition leader, Mr Cameron took part in three debates in 2010 against Gordon Brown and Nick Clegg, broadcast by Sky, ITN and the BBC respectively.
More than 20 million people watched the three debates, the first in British general election history, which took place during the five-week campaign.
'More of the same'
Labour and the Lib Dems have said they agree in principle to the same format next year but there have been calls for UKIP leader Nigel Farage to be included in at least one of the encounters.
With the general election less than eight months away, Mr Dugher - who is heading Labour's debate negotiations team - challenged Mr Cameron to sign up to take part now.
"The truth is David Cameron doesn't want to face Ed Miliband in those TV debates," he told delegates in Manchester.
"He doesn't want to have to defend his record. He's got nothing to offer the country except more of the same. He's bottling it.
"They may be called the 'prime ministerial TV debates', but they are not in the gift of the prime minister. They belong to the public. And it's time to get on with it."
Different formats
In response, the Conservatives said that their position had not changed and that formal discussions should wait until closer to the election, to be held on 7 May 2015.
David Cameron has suggested there should be a range of different formats, potentially including one head-to-head debate between him and Ed Miliband and one encounter including Mr Farage and Green Party leader Natalie Bennett as well as the three main Westminster leaders.
It has been mooted that any head-to-head encounter could take place outside the official campaign period, which will begin in early April.
Speaking in May, Mr Cameron said: "We've got to find the right formats, but I'm sure that if our teams sit down, they can come up with some sort of formula."