The secret life of Labour's republicans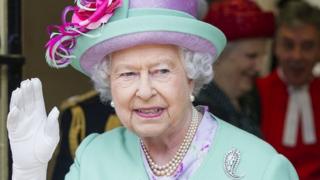 Ed Miliband says he wants a big national debate about all aspects of the British constitution.
But you can almost guarantee one subject will not play any part in it.
It used to be a position voiced in the Labour Party to be in favour of axing the monarchy.
But it is not an opinion you will hear fall from the lips of many of the party's MPs these days. The Queen is too popular and elected politicians too toxic for republicanism to have much traction.
Yet republicans do exist in the Labour Party. And some of them are attempting, in a tentative way, to get the debate started again.
A new group, Labour for a Republic, met for the first time in Manchester on Tuesday evening, a few hundred metres from the party conference secure zone in a room above the Britons' Protection pub.
There was a similar meeting two years ago, at the same venue, but efforts to get the campaign started then faltered. They are hoping it will be different this time, with so much talk of constitutional change in the air.
They hope to be able to take part on a constitutional convention on the future of the UK, if that happens.
'Political suicide'
The event was not listed in any fringe guide - they could not afford it - and only about a dozen people showed up at the Britons' Protection pub for the evening's debate.
The slightly furtive atmosphere was enhanced beforehand by talk of how the group would never "out" an MP with republican sympathies. But, the campaigners insisted, some had expressed their support privately.
This is probably the only campaign group at a party conference that does not want the party leadership to adopt its core policy.
They want Ed Miliband to win the next election and they think announcing from the conference stage that he wanted to sack the Queen would, says the group's founder Ken Richey, be "political suicide".
Instead, he believes progress can be made on smaller issues, such as increasing transparency, by allowing the Royal Family to be subject to the Freedom of Information Act, or ending the oath of allegiance that MPs must swear.
He argues that ending inherited privilege and ensuring all people are treated the same in the eyes of the law should be core Labour values, but he is happy to let the cross-party umbrella group Republic lead calls for abolition.
Prince Charles
Labour for a Republic members know they will never make any real progress while the Queen is on the throne.
But a gleam appears in their eyes when talk turns to Prince Charles.
"I don't think we are going to be getting rid of the Monarchy while the current Queen is on the throne. I think there is an opportunity when Charles succeeds. I don't think he's popular," says Labour London Assembly member Tom Copley.
"I think he's dangerous actually, Charles. With his meddling on planning, his dangerous views on homeopathy and things line that."
Nia Griffith, Labour MP for Llanelli, says she thought at one time that Prince Charles as a bit of a "maverick" might bring about the end of the monarchy himself but that seemed a fond hope now.
She believes Britain could have a low-key, elected head of state, rather than the French or American model people always look to when the they think of a Republic.
Ken Richey is clear about the new group's aims.
"If the Queen was to suddenly go then immediately Charles is King... and it's how we play our cards, and be ready to play our cards, in that period, that we need to take care of."
'Green ink'
Lance Price, a former Tony Blair spin doctor, also warned about Charles' "meddling" and calls for a referendum to be held about whether he should become Charles III.
"When I worked at Number 10 ministers used to joke privately, they would never say it publicly, about the number of letters they used to get from Prince Charles, in green ink, suggesting this policy or that should be changed.
"And you know those letters go to the top of the in-tray."
He said there were quite a few anti-Monarchists in Mr Blair's Downing Street, although Blair himself was not one of them.
The former BBC journalist had little time for arguments about the cost of the Royal Family or the potential impact on tourism of axing them.
But he added: "There is a very strong democratic argument for a republic. I find it deeply discomforting to sit here knowing who our next head of state is going to be for the next 70 or 80 years because they have already been born.
"Having an unelected head of state who is in that position simply by right of birth sends out a signal to the young people in our country, those going through school, that there are certain positions in society - actually rather important ones - that are not open to all. That they are only there if you are born to the privilege to hold that position."
"I want to live in a country where we can tell our kids 'the sky's the limit'".