UK military action in Iraq: Reaction to vote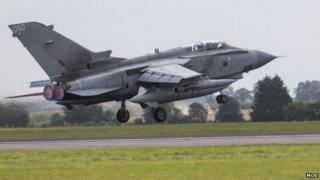 UK MPs have voted in favour of UK military intervention in Iraq against Islamic State (IS).
How have politicians, campaign groups and the media reacted?
Dominic Grieve, Conservative MP for Beaconsfield, who voted for intervention, says the UK "can't just sit on our hands and watch this genocide taking place in northern Iraq and, indeed, in northern Syria". He says the international community "does have to come together", adding: "This is ultimately a coalition which is led by countries in the area and, in so far as Iraq is concerned, the request has come from the Iraqi government - I think that makes it significantly different."
And Rory Stewart, Conservative chair of the Defence Select Committee and a former deputy governor in Iraq, says: "We need to be careful, we need to be strategic but what air strikes will achieve is something that I saw myself when I was on the ground in Iraq, which is I saw the damage that the Islamic State had done. Advancing, driving back 400,000 refugees in front of them and then when the US air strikes came those advances stopped. Air strikes aren't going to solve the fundamental problem but they are a good way of containing."
But John McDonnell, Labour MP for Hayes and Harlington, who voted against the motion, says airstrikes "will be disastrous", adding: "On the last two occasions we've been into Iraq in this way it's caused untold loss of life, destabilised the region itself and actually has been the cause of the rise of Isil and the problem we're facing now. We seem to be repeating the same mistakes without an alternative strategy. We haven't done what we should have done which was ensure that the regional powers themselves resolved this matter."
Conservative MP for Basildon and Billericay John Baron, who also voted against, says "key questions, for me, remained unanswered". He says: "Air strikes alone will not succeed but what about the co-ordinated plan? There's no co-ordinated plan with regards local ground forces and the politics are not right either. We should have learnt from previous interventions that just kicking the door down and walking away in effect, in many cases, is not the right policy."
Foreign Secretary Philip Hammond, asked if Britons held hostage by IS were now at greater risk, says: "The honest answer is that they were already at extreme risk. We know this is an organisation we cannot reason with, that shows no compassion, no mercy from the way they have acted in the past." He adds: "I'm afraid, because of the nature of the organisation we are dealing with, the hostages are in extreme danger."
Liberal Democrat MP for Cambridge Julian Huppert tweets:
Ben Rhodes, the White House's deputy national security adviser for strategic communications, tweets:
And the Stop the War Coalition tweets:
The Daily Mail quotes Prime Minister David Cameron insisting that Britain cannot "walk on by" in the face of the threat posed by "psychopathic terrorists". "But divisions emerged over expanding action into neighbouring Syria, with Labour leader Ed Miliband insisting a UN Security Council resolution should be sought first, even though Russia and China are certain to veto it," the paper adds.
And James Forsyth, of The Spectator, writes: "The question now is whether, and when, Cameron might return to the Commons to try and gain approval for action in Syria. His tone today suggested that he himself would like to see Britain able to operate on both sides of the Iraqi Syrian border. But without Labour support, Cameron will not be able to be certain of getting that past Parliament."