Stirling? Girling? Boris Johnson forgets candidate's name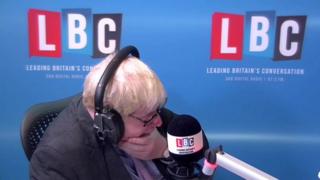 Boris Johnson was left fumbling for words after forgetting the name of his party's election candidate in Clacton.
The Conservative London mayor had his memory lapse during a radio interview with LBC's Nick Ferrari.
"We've got a fantastic guy called... ow... err....(inaudible muttering).... he's a superb man. Stirling? Girling? Something like that."
In the end, he admitted defeat and asked Nick Ferrari for the name of the man standing in Thursday's election.
Mr Ferrari gave Mr Johnson a clue. "Giles - the Bread actor. You remember a star from Bread?"
Boris Johnson said he did not, adding: "Stop sitting there like a great big fat Buddha and tell me the name of this guy."
Mr Ferrari informed Mr Johnson that the name of the Conservative candidate in Clacton was Giles Watling.
The mayor replied that he knew it was something to do with "ling", adding: "You got me there. Well done."
Giles Watling is standing against Douglas Carswell, the former Conservative MP who defected to UKIP and called the by-election.
Other candidates in Clacton are Tim Young for Labour, Andy Graham for the Lib Dems and Chris Southall for the Green Party, Howling Laud Hope for the Official Monster Raving Loony Party, and independents Charlotte Rose and Bruce Francis Sizer.