Tractor speed limit to rise by 5mph to 25mph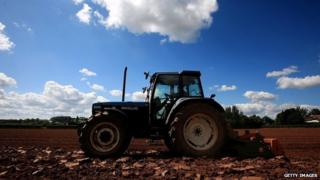 The speed limit for tractors will rise from 20mph to 25mph in March 2015, the Department for Transport has announced.
The combined maximum weight limit for tractors and trailers in England, Wales and Scotland will also rise from 24 tonnes to 31 tonnes.
Transport minister Claire Perry said current regulations were outdated and the changes would "better reflect the capabilities of modern machinery".
The National Farmers Union welcomed the move but urged ministers to go further.
Announcing the changes to existing regulations - which have been in place since the 1980s - Ms Perry said: "Current weight restrictions to the total combined weight of tractors and trailers offer farmers a perverse incentive to use smaller tractors to pull large trailers, in order to maximise the amount of produce that they can carry within the maximum weight allowed."
Traffic
The expectation, she added, was that the changes will "generate almost £62m in deregulatory benefits for farmers per year and bring our farmers more in line with their international counterparts".
From 2015-16, there will be further consultation on weight and speed limit increases, as well as a roadworthiness test for certain agricultural tractors and trailers.
The NFU, which has been lobbying for a change for many years, said existing weight limits were forcing farmers to make many more journeys than was necessary, increasing congestion on rural roads and levels of carbon emissions.
"I am sure many people who've found themselves caught in a queue of traffic behind a tractor will have sympathy with our calls to reduce the number of tractors on the road by increasing their effective payload," he said.
"It is essential government provides a further increase to tractor and trailer weights and recognises the unique role that tractors play transporting our food from field to farm.