New hereditary peer elected to House of Lords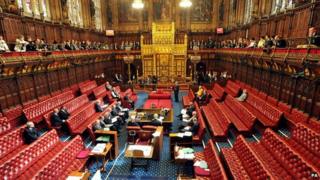 The great-grandson of former Prime Minister Herbert Asquith has been elected as a new hereditary member of the House of Lords.
The 62-year-old Earl of Oxford and Asquith will sit as a Liberal Democrat peer and succeeds Lord Methuen, who died in July.
There are still 92 hereditary peers left in the Lords, following reforms to the upper house in 1999.
When one dies, other hereditary peers compete in a ballot to replace them.
Peers were expected to vote for a Liberal Democrat under a convention that members who die are replaced by someone from the same party.
Last year, MPs criticised the elections process and said the number of hereditaries should "gradually" be allowed to decline.