Michael Gove Commons absence for dog show prompts questions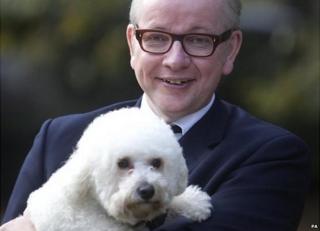 William Hague insisted Michael Gove was "gainfully employed" when quizzed about his whereabouts - before being told the chief whip was taking part in the Westminster Dog of the Year show.
Labour MPs claim Mr Gove is not taking his new job seriously enough.
Angela Eagle asked why he was not present at the weekly business statement in the Commons.
Mr Hague said his colleague had important work to do before another Labour MP revealed what he was doing.
Mr Gove's dog Snowy, an 18 month old Bichon, finished second in the contest, which was won by Robert Flello and his German Shepherd Diesel.
As it was taking place, Commons leader Mr Hague leapt to the defence of the former education secretary, who was made chief whip in July's reshuffle.
"You are always fascinated by the whereabouts of the chief whip. I can assure you he is gainfully employed in many different ways," Mr Hague told Shadow Commons Leader Ms Eagle.
Game of Thrones
Labour backbencher Kevin Brennan asked for a debate on the role of the chief whip, asking why Mr Gove had recently been seen in YouTube clips doing impersonations and reciting lines from TV show Game of Thrones.
"Have you seen these videos and do you think something should be done about these increasing attention seeking antics by the Government chief whip?"
Mr Hague replied: "I'm a little busy with the British constitution and many other matters and haven't been watching these YouTube clips in my spare time, not having much spare time."
Raising a point of order later, Mr Brennan added: "May I take the opportunity to apologise to Mr Hague for suggesting during the business statement he was wrong when he said the government chief whip was gainfully employed.
"I understand the government chief whip and his dog Snowy have just come runners-up in the Parliamentary Dog of the Year competition so I withdraw the implication he hasn't got much to do with his time."
There were nearly as many MPs at the dog show, at nearby Victoria Tower Gardens, as in the sparsely populated Commons chamber to hear Mr Brennan's intervention.
Mr Gove, who was unaware questions were being asked about his attendance, said he was "absolutely delighted" that Snowy had come second in the annual contest, which is organised by the Kennel Club and the Dogs Trust.
He said he had owned Snowy, a rescue dog, for just under two years and he had become an "indispensible member of the family".
Asked what lessons he had applied from dog ownership to his role as chief whip, he said: "I think it's vitally important to recognise the critical necessity of hugging people close at certain times and then at other times rubbing people's noses in it."
This year's show was dominated by Conservative MPs, including Mr Gove's predecessor as chief whip, Andrew Mitchell, who was with his Springer Spaniel Scarlett.
"She has been this man's canine best friend during some quite tricky times," said Mr Mitchell, who resigned as government chief whip in September 2012.
He was among a number of the MPs at the show, including Nadine Dorries, who revealed that they sometimes took their dogs into Parliament, even though, strictly speaking, it was against the rules.
"We don't normally. But she has occasionally slipped in. She has sneaked in past the gates," said Mr Mitchell.