Drones 'could be used to send election leaflets'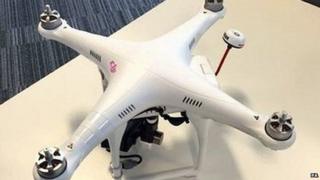 Drones could be used to deliver political leaflets in future, the House of Lords has heard.
Conservative Lord Lee of Trafford said the unmanned aircraft were creating a "revolution" for consumers and companies in the UK.
Business minister Baroness Neville-Rolfe said she "very much" liked his suggestion and the government was investing in the technologies involved.
Issues of privacy and safety were also being dealt with, she added.
Lord Lee, a supporter of drone technology, predicted a "revolution in the way we shop, observe and are observed".
He cited industries such as farming and archaeology, joking: "It may even be possible to develop a delivery system that delivers focus leaflets which I would have thought would be very much appreciated by these benches."
Missing people
This prompted cries of "hear, hear" from peers, many of whom deliver literature on foot on behalf of their parties during election campaigns
Lady Neville-Rolfe replied: "I very much like the examples that that my noble friend has given."
Peers also discussed the potential use of drones in police work, including searches for missing people.
Lady Neville-Rolfe agreed there was a huge potential to develop the UK industry but she faced a series of questions about the risks involved, such as overcrowding of the UK's airspace.
She said: "I take great comfort that they are regulated by the Civil Aviation Authority They need to be safe to be flown and flown safely."
Labour's Lord Davies raised worries about the use of drones for what he described as "reprehensible activity". He said people could buy unmanned aircraft for less than £1,000 and urged the government to step up regulation to protect the "privacy and safety of the individual".
Lady Neville-Rolfe reassured the Lords that "privacy and taking great care in relation to terrorists" would be on the minds of those developing this technology.