Big Ben tour charges 'should be considered'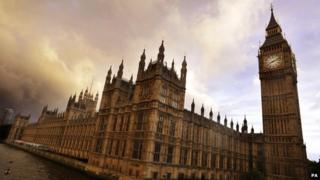 Charging visitors to Big Ben should be considered as part of measures to halve Parliament's retail and catering deficit to below £3m, MPs have heard.
Proposals for a £15 ticket were dropped in 2012 after an outcry from MPs.
But Commons administration committee chairman Sir Alan Haselhurst said charges would raise cash but could also control soaring demand for tours.
Other measures being tried include allowing filming in the Palace and renting out the MPs' dining room.
Climbing the 334 steps of the Elizabeth Tower to the Great Clock and bell, which is widely known as Big Ben, is currently free, but tours sell out six months in advance and are only open to UK residents.
'Cheapening' the Palace?
The House of Commons Commission had planned to charge visitors £15 from July 2012 - but agreed to drop the plan as MPs prepared to vote on a motion against the idea.
At the time, Conservative MP Robert Halfon condemned the plans as a "disgrace", saying the tower was "part of our democracy" and not "simply an adornment".
But recently 254 email requests were received within the first five minutes of opening for bookings, meaning that places were filled within the first two minutes.
"In the light of the popularity of guided and audio tours of the rest of the palace, it may be worth visiting sooner rather than later the issue of charging for tours of the Elizabeth Tower and Big Ben," he said.
"Expectation from the public has shot up, and it is an expectation we are now having the greatest difficulty in meeting," said Sir Alan.
"We are a working building and also a visitor attraction and we consider them to be complementary roles... I do not regard it as in any way cheapening this Palace for it to be more welcoming to visitors... while, of course, guarding our security," he added.
Voting with their feet
Sir Alan, a Conservative MP who is a former deputy Speaker, attributed part of the current cash shortfall to MPs failing to use their restaurant.
He said the introduction of a £15 subsistence allowance by the Independent Parliamentary Standards Authority (IPSA) - created in the wake of the MPs' expenses scandal - had had "a malign effect" on their use of Commons facilities.
"Some told their electorates beforehand that they would not claim it, while others simply do not feel comfortable about claiming it while they are away from home on parliamentary business," he said.
"That has, to an extent, reduced the uptake of facilities, especially in the Members' Dining Room."
He said the fact the allowance is only available if Commons' business continues beyond 7.30pm is "very difficult to understand", yet IPSA has stuck firmly to the rule "despite all my efforts to persuade it otherwise".
"It seems to me that whether the House sits until 7.29 or 7.31, the fact remains that many Members who are distant from their homes will have to eat away from home," he said.
"Many Members now do not eat on the estate, which has had several bad effects."
Sir Alan said his committee had set itself a target of reducing the £5.9m catering and retail deficit to less than £3m by the end of this parliament, through a combination of "prudent cost-cutting" price rises and efforts to increase demand.
Suffragette film
"The media suggest that this is all about 650 Members of Parliament advantaging themselves," he said. "However, there are 13,000 pass holders on the estate, many of whom earn much less than Members of Parliament, and the catering service is aimed at everyone who has legitimate cause to be here.
"As I have said, the deficit has been halved. I hope that will be recognised and that we will make continuous efforts to achieve further savings and improvements."
Efforts to counter the shortfall have included a "sell-out" plan to allow members of the public to book lunch in the Members' Dining Room.
Room-hire fees have been introduced and an increased range of quality gifts and souvenirs at the Commons shop boosted revenue by 11% in the July-September quarter, compared with the equivalent period last year.
Trading on Saturdays at the Houses of Parliament shop in Bridge Street, Westminster, has helped see sales in August 40% higher than the year before.
And Sir Alan said filming proposals were being considered on a case-by-case basis, following the recent recording of "Suffragette".