Labour to reinvest '£250m in police savings' on front line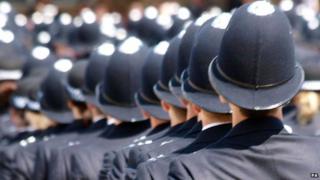 Labour says it has identified £250m in cost savings that can be made in the police service.
The party said the money would be used to "protect front-line policing".
Its cost-cutting proposals include scrapping elected police commissioners and changing the procurement process.
Forces in England and Wales have cut £2.5bn from their budgets since 2011, and the government says front-line policing has been protected despite spending cuts.
Ministers have pointed to official figures showing continuing falls in overall crime levels as proof that cuts to police budgets of 20% since 2010 have not endangered the public.
Labour said it would have cut budgets by a smaller amount - 12% - between 2010 and 2015 but now insists that the government has not followed through with many of its plans and it has identified more savings if it returns to power after May's election.
The largest part of Labour's planned savings - £172m a year - would come through changes to procurement, by making joint purchasing of equipment by forces compulsory.
'Vital work'
Last year, MPs said police forces were spending £1.7bn - 13% of their income - procuring the items they needed.
The Commons Public Accounts Committee said there was an "unacceptable variation" in forces' approaches, and that use of a central purchasing hub was "woefully" lower than Home Office targets.
Labour has previously said its plans to scrap the police and crime commissioners elected in November 2012 would save £50m.
It also said £17.2m a year could be saved with "full cost recovery" in gun licensing, and said "poor management" of Home Office spending had been identified, including wide variations in the prices paid for high-visibility jackets.
The announcement comes as part of Labour's "zero-based review" which is looking at ways to cut the cost of public services.
'Challenge waste'
As part of the same process, Labour has said "non-essential" government-owned buildings, including the QEII Conference Centre in London, could be sold off to raise £100m.
Shadow home secretary Yvette Cooper said: "When money is tight, we need to get the best out of every pound, challenge waste and find new savings.
"We are determined to find ways to protect the vital frontline work our police do, whilst making the savings we need to help get the deficit down."
Scotland's eight regional police forces were merged into a single national police force in 2013, with the aim of saving £1.1bn by 2026.
Earlier this year, Labour said it could conceive of forces merging but only if there was local agreement and it benefited the public.