Fall in council tax collection rates blamed on government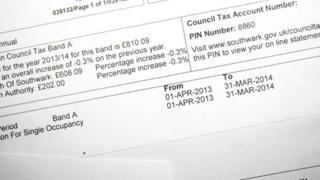 Nearly £750m in council tax went unpaid in England last year, official figures have shown, as collection rates fell for only the second time since tax was introduced in 2003-04.
The Audit Commission watchdog said councils in England gathered on average 97% of what they were owed in 2013-14, down 0.4% on the previous year.
The total of uncollected tax rose to £2.38bn.
Town halls said spending cuts meant more people were "struggling to pay".
The spending watchdog said many councils had "room for improvement".
"While collection rates are high... when we consider such large sums of taxpayers' money, even a small percentage shift can produce substantial changes in the income councils have to deliver their services," said its chairman Jeremy Newman.
But the Local Government Association blamed the Treasury, suggesting town halls had a much better record on collecting taxes than Whitehall.
Struggle to pay
"The slight increase in unpaid council tax will come as little surprise to those in local government, who warned that this would be a consequence of government cutting funding for council tax support," its chairman David Sparks said.
"This cut has left local authorities with little option but to reduce discounts for people on low incomes, some of whom have found it a struggle to pay."
The LGA is calling for action in next week's Autumn Statement to give councils more power to set council tax discounts locally.
Separate figures from the watchdog showed that collection of business rates improved over the year from 97.7% to 97.9%, adding £47m to total yields.
It suggested councils had been prompted to boost performance because of new rules allowing them to retain some of the business rates they collect, rather than paying them all into a national pool to be redistributed by central government.