Autumn Statement: Stagecoach bus chief in devolution warning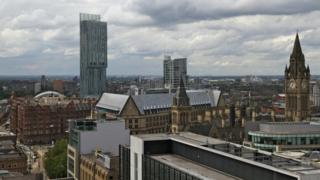 Handing transport powers to England's new "city regions" could lead to a "confiscation of assets", the chief executive of Stagecoach, the UK's biggest bus operator, has warned.
Martin Griffiths said he feared the plan would re-regulate the buses, and make them, in effect, state-controlled.
Chancellor George Osborne is set to outline devolution plans for northern England in his Autumn Statement.
The Treasury said cities would need to consult before reaching a decision.
Under the city deal scheme, areas - known as city regions - are given greater independence from Whitehall and more control over their finances.
'Socially necessary'
Mr Osborne is to build on a recent announcement that Manchester and surrounding towns and cities would have a single, directly-elected mayor from 2017 to preside over regional issues.
The mayor will oversee policies such as transport, social care and housing as well as police budgets.
The chancellor believes better transport is key to creating what he calls a "northern powerhouse", with more reliable buses getting workers to their jobs on time, acting as a catalyst for business growth.
Councils have long complained they are powerless to stop companies over-providing on city centre routes, which cuts margins so they cannot subsidise unprofitable, but socially necessary, suburban and rural buses.
In its application for a city deal with the government, Sheffield said "major bus routes are oversubscribed to the extent that they run at 50% capacity".
But Mr Griffiths told BBC Radio 4's The World Tonight that privatisation in the 1980s had resulted in competition and better services.
He said: "If the chancellor's observations are taken at face value… you'd effectively see the confiscation of some assets overnight."
London model
And he told me the Treasury had ignored his request for a meeting with Mr Osborne.
Government sources insist the chancellor declined a meeting because it would be for city regions to decide how they use their new powers.
A Treasury spokesman told the BBC: "If the mayor who is elected wants to franchise buses, he or she will need to consult beforehand and consider all aspects of any decision."
The chancellor's model is London, where Boris Johnson is in charge.
Services in the capital were never de-regulated as they were in the rest of England.
The Treasury said bus franchising had contributed to the rapid growth in London bus-use in recent years.
Funding cuts
But Mr Griffiths said he had "a number of concerns" with the proposals, questioning the benefits for passengers.
"There's no new money being offered here," he said, saying moving to a London model would have "an enormous price tag".
He added: "These businesses were privatised back in the 1980s - hundreds of millions of pounds were put into the development of the business and the staff.
"If you take the chancellor's observations at face value, you would effectively see the confiscation of some of these assets overnight.
"There's been no discussion that we're aware of with the Treasury about how that would work or any compensation for that. So I think all of this is a bit vague."
The Autumn Statement will reveal just how little extra spending the government can afford, with borrowing up and tax receipts down.
Devolution has the added attraction to the chancellor that it mainly involves transferring existing money rather than much fresh funding from Whitehall.
Jennifer Williams, social affairs editor at the Manchester Evening News, has spoken to many of those involved in the negotiations.
She says for councils, the offer of new powers was hard to resist, even though austerity implies that expectations raised by devolution won't be matched by resources.
"George Osborne may be handing over big ticket devolution, but while he continues to take money out of the day-to-day spending of the town halls," she says.
"I think there will be scepticism. Manchester is looking at £60m in cuts in 2015 and a further £30m the year after."
There is another paradox to this round of English city devolution. The model is being imposed from Whitehall.
In 2012, the coalition asked voters in 10 cities if they wanted a directly elected mayor.
Manchester said no. Indeed, in that process only Bristol voted yes.
'Undoubted wealth'
Negotiations with Leeds and Sheffield ahead of the Autumn Statement have been impeded by the reluctance of councils to accept this part of Mr Osborne's offer.
Last week, Nick Clegg, the deputy prime minister, suggested it may not be a deal-breaker, although the chancellor is known to be keen that city regions are led by a single, accountable leader.
Pro-devolution party Yorkshire First, founded to contest this year's European Parliament elections, is among those lobbying for a more radical model.
Over a pint in a Huddersfield pub, Paul Salveson, who is standing for Yorkshire First at the general election, tells me the party wants a Yorkshire Assembly.
He says: "The stress on city regions is a bit like a big tree where everything else dies around it - and if you look at towns like Dewsbury these are not affluent, there's a lot of poverty, so we need a proper regional approach where the undoubted wealth is really shared."
'Severe poverty'
On an industrial estate in Openshaw, Manchester, where crates of lemons are being packed for distribution to schools, bail hostels, women's refuges and schools, you see evidence of the other side of Manchester's powerhouse - those who've yet to benefit, and whom the chancellor thinks city deals can eventually help.
Fairshare is a charity whose volunteers redistribute surplus food across the north-west of England. Some of it will go as far north as Fleetwood on the Lancashire coast.
Neil McInroy, chief executive of the Centre for Local Economic Strategies, a think tank based in the city, hopes city deals and what's been called Manchester's Metro Mayor is only the start: "You'd like to think that some more powers were given to the city region to actually harness some of the wealth, so they could redistribute it to deal with the severe poverty issues we have."
By comparison to that, making the buses run on time ought to be a walk in the park.
Shaun Ley hosts live debate from Manchester on the chancellor's devolution plans in The World Tonight on BBC Radio 4 on Tuesday from 22:00 GMT.