MP Mark Garnier's regret over 'dog-end voters' comments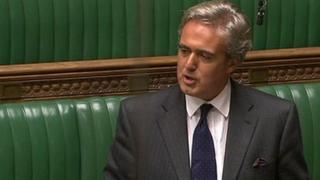 A Conservative MP "deeply, deeply regrets" causing offence after describing some people as "dog-end voters in outlying regions".
Mark Garnier, the MP for Wyre Forest in Worcestershire, was recorded addressing free market think tank the Institute for Economic Affairs.
The recording was handed to The Sun newspaper.
Mr Garnier said his language "wasn't Shakespearean" and said he had not meant to cause offence.
The MP had told the think tank: "This massive argument that is going on about what is going to happen to tax rates for entrepreneurs and risk takers, who are in many cases mortgaging their houses several times over in order to create jobs and create economic activity, we need to be giving a much clearer message to them.
"That they don't have to worry about politicians mucking around with tax rates in order to try to attract a few dog end voters in outlying regions of the country."
He then added, to laughter: "Not that they are not important! What is important is that businesses can feel surety in what is happening within tax rates."
Speaking to the BBC, Mr Garnier acknowledged that "my language wasn't Shakespearean" and was "less than brilliant".
"No-one wants to deliberately go out and cause offence," he said.
Mr Garnier said the point he was attempting to make was his view that Gordon Brown as prime minister had increased the top rate of income tax - paid on earnings over £150,000 a year - purely as a desperate stunt to appeal to as many voters as he could.
The Conservative MP said the "huge mistake" with that was that it failed to take account of the need to provide certainty and stability in tax rates, to ensure businesses from around the world are tempted to move to the UK.