Ministers defend Syria refugee help amid Labour criticism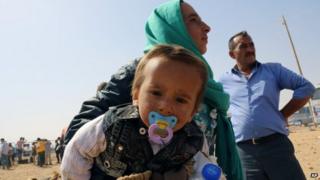 The government has defended the UK's help for Syrian refugees, amid Labour claims that its resettlement programme for vulnerable people is not working.
Home Office Minister James Brokenshire said 90 people, mostly women and children, had been accepted by the UK between March and September.
The UK, he said, was right to prioritise those most in need rather than relying on "crude quotas".
But Labour's Yvette Cooper said the UK should sign up to a separate UN scheme.
On Tuesday, the United Nations asked for more help from countries participating in its own quota-based refugee resettlement scheme, which the UK is not a part of and which is operated by the UN High Commissioner for Refugees
Earlier this year, the government set up its own Vulnerable Persons Relocation (VPR) scheme to give sanctuary to several hundred of the most vulnerable refugees from the conflict in Syria, which began in 2011.
In response to an urgent question in the Commons on the scheme, Mr Brokenshire said the UK's focus was on ending the fighting in Syria and providing humanitarian assistance to the homeless in Syria and those who had fled to neighbouring countries.
'At risk'
The UK, he said, had supplied £700m in humanitarian relief towards helping the 3.2 million people internally displaced by the conflict, making it the second largest donor after the US.
The government, he insisted, was honouring its commitment to take in "several hundred people over three years", focusing on those who were not able to get the medical help and treatment they needed in the region.
"The scheme is prioritising women and children at risk, people in need of medical care and survivors of torture and violence" he said. "It is right that our resettlement efforts focus on the most vulnerable refugees, rather than operating any form of crude quotas system."
But Ms Cooper said more needed to be done as the onset of winter put thousands of more lives at risk.
The shadow home secretary said other countries around Europe that had signed up to the UN scheme had made significantly larger contributions, such as Finland with 500 places, Ireland with 310, Norway with 1,000 and France with 5,000.
"Will they [the government] accept that their parallel programme isn't working and sign up to the United Nations programme instead?" she said.
"It would be shameful, but it would also be against our history and against our values as a country if we were to turn our backs when asked for more help now. I do urge the ministers to think again."
In response, Mr Brokenshire said each country was responding to the crisis "in its own different manner" and that Britain had also accepted 3,400 asylum seekers from Syria since 2011 through more conventional methods.