Ed Balls: Tories have ceded centre ground to Labour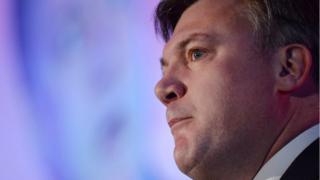 The Conservative Party has "lurched to the right" and ceded the "centre ground" of politics to Labour, shadow chancellor Ed Balls has said.
Writing in the Guardian, Mr Balls said there was an "increasingly extreme and ideological approach" to Tory plans for "massively deeper spending cuts".
A Conservative Party spokesman said Labour would put the economy at risk.
Former prime minister Tony Blair said this week that Labour "succeeds best when it is in the centre ground".
In the Guardian on Friday, Mr Balls wrote that Chancellor George Osborne's Autumn Statement last month had been a "defining moment" in which he had "ceded the political centre ground to Labour".
Mr Balls highlighted the warning from the Institute for Fiscal Studies (IFS) that Mr Osborne's plans would require government spending cuts "on a colossal scale" - a suggestion that was dismissed as "totally hyperbolic" by Mr Osborne.
Balls: Tories cede 'centre ground'
The shadow chancellor wrote: "Let me be clear, Labour will need to cut public spending in the next parliament to balance the books.
"But Ed Miliband and I do not believe a 35% state can be sustained without causing huge damage to our NHS, policing, defence, local services and economic infrastructure.
"Osborne's increasingly extreme and ideological approach goes far beyond the necessary task of deficit reduction.
"It is a risky second-term Conservative project to shrink the state - a lurch to the right which has left Labour as the centre-ground alternative."
'Stark choice'
He continued: "So the economic choice at the election is now stark and clear.
"Do we adopt a Labour plan to change our economy, so that it works for working people again and to get the deficit down in a tough and balanced way?
"Or do we carry on with the same failed Tory policies and slash public services to a level of national income last seen in the 1930s?"
A Conservative Party spokesman said Mr Balls was confirming that, if elected, Labour would "borrow more and raise taxes in the next Parliament".
He said: "That would put our economy at risk and undermine all the progress we have made since Labour's Great Recession.
"Ed Miliband has no economic plan to secure Britain's future. That's why he is simply not up to the job."
Earlier this week, Mr Blair insisted he was fully behind Labour leader Ed Miliband - despite having appeared to suggest the party risked being too left-wing to win the general election.
He told the Economist that the election could become one "in which a traditional left-wing party competes with a traditional right-wing party, with the traditional result".
Asked if this meant a Tory win, he replied: "Yes, that is what happens."
Mr Blair later tweeted: "My remarks have been mis-interpreted, I fully support Ed and my party and expect a Labour victory in the election."