Thornberry 'upset' after tweet row 'snob' claims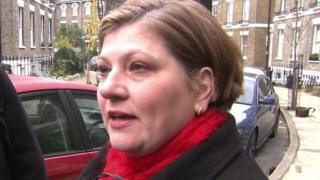 Labour MP Emily Thornberry has revealed she was upset to be called a "snob" over a controversial tweet she sent on the day of the Rochester by-election.
Ms Thornberry was forced to quit as shadow attorney general after posting a photo of a house draped in England flags with a white van parked outside.
Labour leader Ed Miliband said that the tweet "conveyed disrespect".
But Ms Thornberry told BBC Radio 5 live: "The house looked like the house I was brought up in."
Ms Thornberry, the MP for Islington South and Finsbury, resigned her frontbench post in November, the day after she posted the controversial tweet, admitting she had made "a mistake".
Labour leader Ed Miliband said at the time: "I was angry because I thought her tweet gave a misleading impression, when she photographed the house in which the family lived, that somehow Labour had the wrong view of that family."
The resident of the house, Dan Ware, said Ms Thornberry was a "snob" while her actions were also criticised by Conservative leader David Cameron and UKIP leader Nigel Farage.
Asked two months on about the incident on BBC Radio Five Live's Pienaar's Politics, Ms Thornberry said: "I have really said all I have to say about that. The house looked like the house I was brought up in.
"It was covered in flags. I took a photo of it, it was a series of photos.
"It was particularly upsetting to be called a snob because I have never forgotten where I came from."
Ms Thornberry, a barrister, was brought up on a council estate outside Guildford, Surrey.
'Move on'
"This is a new year and we are only a few weeks away from an election and I think that we should move on and actually talk about stuff that is kind of important," she said.
"People who go into politics have to develop a very thick skin early on and I have got a thick skin."
Kevin Schofield, chief political correspondent for the Sun, who was also on the programme, asked her whether she had apologised to Dan Ware. Ms Thornberry declined to answer his question.
Her tweet was posted on the day of the Rochester and Strood by-election, which was triggered by the defection of the constituency's MP, Mark Reckless, from the Conservatives to UKIP.
Mr Reckless won the election under his new party banner, but with a reduced share of the vote.
Labour's candidate came third after the Conservative candidate Kelly Tolhurst, who has been reselected to fight for the seat in May's general election.