Jo Swinson: Encourage boys to play with dolls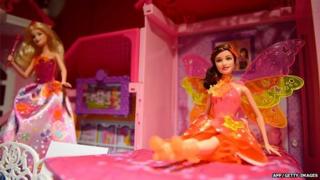 Boys should be encouraged to play with dolls to make them more "nurturing and caring", Lib Dem equalities minister Jo Swinson has suggested.
She said it would make them more likely to work in the adult care sector when they grew up.
Ms Swinson, East Dunbartonshire MP, also criticised "the messages" society sends to children about gender roles.
She said changing boys' perceptions could help to avoid a predicted future shortage of professional carers.
Ms Swinson, who is also a business minister, was responding to a debate called by her Lib Dem colleague and former care minister Paul Burstow on the care sector.
Soothing Parliament
The MP had warned of a shortage of care workers in future years and said it was important to persuade more men to work in the sector.
Ms Swinson replied: "The messages we send to children about the role of men and women and whether boys can be nurturing and caring - and yes, dare I say it, play with dolls - getting into those habits of care and nurture and that being seen as something that is just as appropriate for boys as for girls and men and women to be involved in is, I think, important."
The Lib Dem minister has also suggested a novel way to help people's newborn children fall asleep -watching TV broadcasts of Parliament.
She said that when she was on maternity leave she tuned in to the channel to watch an early debate on the Consumer Rights Bill.
"It did seem to have a fairly soporific effect on my son so perhaps that's a tip to all new parents on the delights of BBC Parliament."