Tony Blair: Firm leadership key to political success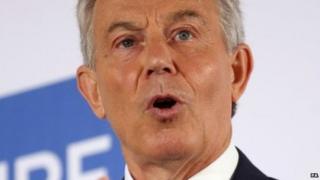 Firm leadership is the key to political success, former UK Prime Minister Tony Blair has suggested.
In an interview with BBC political editor Nick Robinson, Mr Blair said voters wanted to see their "leaders leading".
Mr Blair added that it would be up to voters to decide if Labour leader Ed Miliband had the leadership qualities to be prime minister.
"I'm Labour Party and I'm backing him," Mr Blair said.
The former PM made the comments in an interview for the BBC Radio 4 series Can Democracy Work?.
He was asked about claims that voters were losing faith in the mainstream political system.
"People who come along and say 'I've got the answer', whether it is an answer or not, have a certain amount of appeal," Mr Blair said.
"There is a whole swathe of the public that thinks 'I like my government, you guys go and govern, don't keep troubling me every three seconds with what I should think or what I shouldn't think'.
"They want to see their leaders leading."
Asked what Mr Miliband's "problem" was, Mr Blair replied: "I'm not sure he has got a problem. That'll be for the people to choose."
The interview was recorded before Mr Blair was forced to clarify comments he made about Labour's chances at the next election in an interview for the Economist magazine.
He insisted comments in that interview, in which he suggested a party fighting on a "traditional left-wing" platform would lose to the Tories had been "misinterpreted" and that he supported Mr Miliband and expected a Labour victory in May.