Alastair Campbell denies assault claim after street row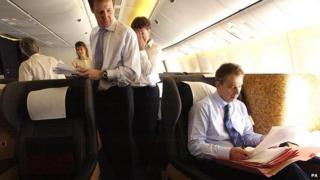 Alastair Campbell has denied reports he spat at and assaulted a 61-year old man during a confrontation while out jogging near his North London home.
The former Labour spin doctor has published a blog after the claims were highlighted on Twitter by Respect MP George Galloway and reported in the Ham and High newspaper.
Mr Campbell says the man spat at and abused him in an "unprovoked attack".
Mr Galloway was promoting "propaganda", he said.
The Ham and High has published limited CCTV images of the incident.
Mr Campbell, who is advising Labour leader Ed Miliband in the run-up to the general election, was walking back from a run in Hampstead on Monday.
He says on his blog: "A man walking towards me began shouting in abusive and aggressive terms as he approached. As I passed him I did not look at him, did not respond to his insults and put my my arm out to his shoulder to stop him coming any closer.
"If there was any contact at all it was minimal. I walked on a few steps, thought he was doing the same but he turned back, followed me, continued to abuse me and when I turned around he came towards me and aimed a kick at me which came into brief contact with my leg.
"He then moved back but came forward again and spat at me, most of the spit landing on my shirt, some on my face. I then turned and walked away."
The 61-year-old man, who has not been named, told the Ham and High: "I saw Campbell coming towards me and I made a remark. As he came past me, I said, 'The biggest piece of **** I've ever seen in this street.'
"He then struck out and hit me on my left shoulder. I turned to confront him and said, 'That is assault, you should be in prison, not running around the streets of London.'
"At which point spitting ensued and then I aimed a blow with my foot that did not connect. Nothing that I did was illegal and he had no right to punch me."
The 61-year-old reported the incident to George Galloway, the Respect MP for Bradford West, who tweeted: "Blair's pugnacious former attack dog Alastair Campbell heading for deep doodoo. All will be exclusively revealed here. Watch this space...!" and "Blair's poodle Ali Campbell involved in street spat with elderly man in Hampstead. Did he hit him? Exclusive film here shortly"
Mr Galloway followed up the tweets with another linking to the Ham and High's footage of the incident.
Mr Campbell has questioned why the man did not take his claims to the police.
"'Though I am used to robust debate, including in public, this is the first time I have been attacked in a public place like this and the first time I have been spat at. We have lived in Gospel Oak, happily and as active members of the local community, for decades and it has always felt a safe and friendly place for me and my family."
"This has become a 'story' purely because of an inaccurate Galloway tweet, via someone who does not wish to be identified, via a partial piece of CCTV which has neither the initial provocation nor the subsequent assault.".