Labour pledge to "reset and repair" relations with EU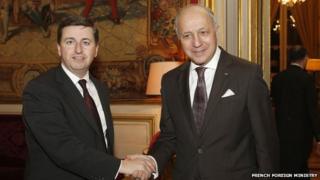 A Conservative victory at the general election could mark "a point of no return" in the UK's relations with the European Union, Labour has warned.
During a trip to Paris, shadow foreign secretary Douglas Alexander claimed David Cameron had caused the "biggest loss of influence in a generation".
If re-elected, Labour will "repair and reset" links with the EU, he said.
Foreign Secretary Philip Hammond said the UK's future in Europe may depend on the outcome of future negotiations.
He told MPs that there was a lot of goodwill towards Britain across Europe but this needed to be reflected in "substantial and meaningful" changes to the way the 28-member union operated.
The Conservatives have said they will seek a better deal for the UK in EU and put the outcome of a planned renegotiation to a in-out referendum in 2017.
While seeking reform of its own in Europe, Labour has said a referendum would cause economic uncertainty and would only be justified if the UK agreed to hand over more power to Brussels.
Mr Alexander used a meeting with French foreign minister Laurent Fabius to stress Labour's commitment to the UK's membership of the EU and set out a number of steps to raise the UK's "standing" in Europe.
'Post-imperial delusion'
Speaking at the headquarters of the French Socialist Party, Mr Alexander said that no country wanting to play a leading role in the world should contemplate "cutting itself off from some of its closest allies".
"Before David Cameron became prime minister, Britain was at the heart of EU decision-making," he said.
"Yet when he leaves Downing Street in May, he will have presided over the most significant decline in British influence in Europe for a generation.
"During his time in Downing Street David Cameron has done serious damage to Britain's status in Europe and in turn has diminished our standing in the world.
"The re-election of David Cameron could mark a point of no return for Britain's relations with the EU."
A future Labour government, Mr Alexander said, would review how the UK is represented in Brussels and press the case for internal reform through a series of bilateral summits in London and other diplomatic efforts.
He also suggested MPs will be given more opportunity to debate EU matters and scrutinise European directives implemented into British law.
'Balance of power'
But he insisted that the UK's membership of the EU had made the country "stronger, more secure and prosperous".
"Labour believes that the UK will stand taller in Washington, Beijing, Moscow and Delhi when we stand firmly at the heart of the EU," he will add. "The idea that our influence in world capitals would grow as our influence in Europe diminished is not just a Eurosceptic fantasy, but a post-imperial delusion".
Also speaking on Tuesday, Foreign Secretary Philip Hammond suggested that other EU members wanted the UK to stay in as it played an important role in maintaining "a very delicate balance of power".
But he told the Commons European Scrutiny Committee this could not be taken for granted.
"I can only speak for myself, but I think I speak for many others - we can't say we are supporters of continued membership until we see what the reform package we are able to negotiate looks like," he said.
"I very much hope that when we have completed that task, that I will be a supporter of continued membership on the basis of the reform package that we have negotiated because I think there are significant economic advantages to being in the European Union.
"But it does depend on our partners being willing to engage with us in a substantial and meaningful reform package."
Meanwhile, UKIP leader Nigel Farage has said he will quit if the UK votes to stay in the EU in a future referendum.
"The loss of a referendum means curtains for Nigel and it means curtains for the current crowd here in head office," he told the BBC's political editor Nick Robinson for a Radio 4 documentary.