Election 2015: Will new debate offer clinch the deal?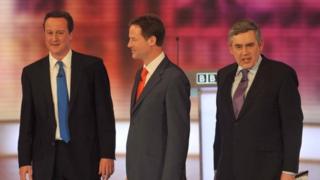 Fans of the BBC Four political drama Borgen will know all about the risks for more high-profile politicians inherent in a live televised debate.
In a cringe worthy scene, the former PM Birgitte Nyborg crashes and burns under questioning, while some of her rivals make their names.
It's the stuff of nightmares for political leaders.
So it's perhaps not surprising that David Cameron's advisers believe he has the most to lose from participation in any general election debates.
The broadcasters - or some of them at least - neither wanted to pull the debates entirely nor "empty-chair" a prime minister.
While insisting that the debates should go ahead even if one of the leaders declines to take part, they have gone out of their way - possibly at the expense of an engrossing spectacle for viewers - to accommodate Mr Cameron's stated desire to include the Greens in any line-up.
With the SNP and Plaid Cymru also invited to take part, it's just possible this would be the least damaging option for David Cameron.
It may cast him in the role of a prime minister who can treat all opponents as minor parties - and he would certainly welcome the opportunity to demote his coalition partner Nick Clegg to the status of political pygmy.
But every solution brings a problem, it would seem.
Naturally enough, the Lib Dems aren't chuffed with the prospect of taking part in only two debates this time and not all three.
And it's possible that when negotiations with the parties begin on the new proposals both Labour and UKIP will say two potentially unwieldy debates with seven participants is over the top and wouldn't it be better to transform one of these into a clash between those which broadcasting regulator Ofcom regards as the "major" parties?
That would restrict the platform to David Cameron, Ed Miliband, Nick Clegg and Nigel Farage - but re-introduces the risk of the PM pulling out.
Meanwhile, the Democratic Unionist Party and other Northern Ireland parties are put out not to be invited to any debate. If the Conservatives insist they should be asked, that could put a freshly manufactured spanner in the works.
So the debate about the debates will continue.