Election 2015: Thurrock the three-way battle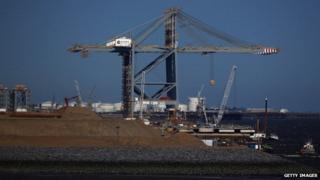 Harris is a thinker. His black woollen hat is pulled down tightly and is resting just above his eyebrows. The eyes themselves glow brightly.
He shivers slightly in the January chill as he watches the claw of the crane swing violently overhead, and then swoop down to pick up another load of twisted metal.
As far as Harris, the 27-year-old scrap metal merchant from Grays in Essex, is concerned, the last five years have changed the political landscape of this country.
"People's ideas of what they want have changed."
What they want?
"Well. What they are worried about," he clarifies. There is an ear-splitting crash as half a tonne of scrap is dropped down onto the growing pile.
"They see overcrowding in hospitals and schools and they put it down to too many people in the country. And that comes back to immigration."
It is a grassroots analysis that until recently few of the so-called experts in the country had properly picked up on.
But since the last election, and even further back, ten years or so, there has been a shift in sentiment among the likes of Harris, and millions of others like him across the country.
'He'd lynch me'
A ten minute walk around the corner, the huge cranes of Tilbury docks peaking out above the terraced housing that lines the streets here, and you are at the Tyrrells Hall Working Men's Club in Little Thurrock.
The back room is more bustling than the bar.
"You're half a stone down now Amy."
"Woohoo," comes the jolly reply.
Several dozen women have come for the weekly slimming club. Many say they do not vote, or at least that they leave talk of politics to their husbands.
Not Linda.
"If my dad was alive and I told him I was going to vote for anybody else but Labour he'd lynch me and put a knife through me," she says, rounding it off with a throaty laugh.
Her late father was a docker.
"He was Labour through and through. And no matter what, you voted for Labour 'cos we're the working class. And you just did that."
Now though?
She trots off the immigration worries that so many articulate these days, which perhaps push her towards the UK Independence Party. Then she rounds on the party after its leader suggested that some form of payment for the NHS might be necessary in the coming years.
For Linda it is no longer a straight choice.
"You only had the three parties (in my dad's day). Now you've got so many different parties. You've got the Green Party, UKIP, what-have-you. At the end of the day you've got to weigh up what is right for you. Haven't you?"
Immigration concerns
That fracturing of the political landscape, which is happening across the country, makes this one of the least predictable general elections the UK has seen in recent memory.
Thurrock, the constituency in which Harris and Linda can vote, has always been a straight fight between Labour and Conservative.
In 2010, the Tories won the seat by only 92 votes.
Five years ago, Labour assumed Thurrock should be an easy win. It was their second "most winnable" seat to take back from the Conservatives.
That was until - in the words of Harris - "what people are worried about" shifted. Until the new parties that Linda is contemplating became credible options.
Now, Thurrock is a three-way battle. UKIP is the third force challenging the mainstream parties here. Though it's not winning everyone over.
"Another one?" asks the barmaid.
"Please," says Lee, an off-duty police officer who has been inside the club for several hours now.
'No room'
Lee is fed up.
"The police, the ambulance, the fire brigade, all sorts of social services are being cut. The collaboration between the Liberals and Conservatives is bringing the country to its knees."
He has been with the police force for 20 years. In that time he has only voted once, when he was 18. Now, it has become personal.
"I will (vote) this time. Every little bit counts now. I've never bothered before, I've always been comfortable."
Quietly reading his paper at another table is Tony, a retired worker with a thick head of grey hair, who has voted Labour all his life.
"Where is England now? They've built a tunnel so people can come over here. I'm not racist, far from it, but they're taking jobs from people. What land have we got left? There's no room."
He is sounding like UKIP. Is he tempted?
"I'm not. I'm not," comes the emphatic reply. "They're a laugh aren't they? They're Tory in drag."
He will - once again - stick with Labour. The party needs the likes of Tony, their traditional base, to stick with them if they are to stand a chance of leading the country after May's election.
The Conservatives also need their traditional base to turn out in force, of course.
If the party is to see off a double challenge from both UKIP and Labour in Thurrock they will need core voters like Colin Rate, a managing director of a car dealership in Grays, to stick with them.
He is a smartly dressed, easy-going man, who gently guides customers through a test drive; out of town, along the various A roads skirting the constituency, and back in through tidy little villages.
'Kick in the teeth'
"I'm about 5% up on the previous year in new vehicle sales," he says. Business is "buoyant" he adds, before suggesting a left turn at the next roundabout.
Does he put that economic buoyancy down to Conservative policy in the last few years?
"Yes I do. David Cameron is a good leader. He's the one I would prefer to see get in for a second term so they can see the job out completely, and get our deficit under control."
Back at the other end of the car business if you like, at Harris' scrap metal yard, there is no mention of deficits, nor economics. Both Harris and his colleague say life is treating them well. They have jobs, homes, they are ok.
But still Harris is not happy with the direction he perceives the country to be moving in. Last time round he voted Conservative. This time, it is likely to be UKIP.
That vote he says, will be "a direct kick in the teeth to the two or three main parties that something has got to change".
"It's a protest vote, but to get the Conservatives, Labour and the Lib Dems to stand up and listen to what you want, sometimes you have to go elsewhere. To get the mainstream to change," he adds.