DfID criticised for 'poor' oversight of aid agency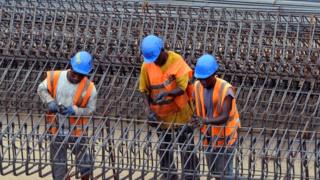 The Department for International Development has been criticised by MPs for "unacceptably poor" oversight of a UK-funded development agency.
The Public Accounts Committee said the Private Infrastructure Development Group was beset by "poor financial management".
It said there were doubts about the integrity of its investments and a closer eye was needed on its spending.
A DfID spokesman insisted there was "strong oversight" of the PIDG.
The agency was founded in 2002 by the UK, Switzerland, Holland and Sweden to back private investment in infrastructure projects in developing countries.
It receives the large majority of its funding from the Department for International Development (DfID), with contributions expected to hit £860m by 2017.
'Public confidence'
In a report on oversight of the PIDG, the influential Commons committee raised concerns that funds were going to companies linked to" known criminal fraudsters" and the "looting" of Nigerian oil revenues.
The committee's chairwoman, Labour MP Margaret Hodge, said: "We recognise that PIDG operates in countries where standards of governance can be challenging.
"However the department's oversight of PIDG has been unacceptably poor and has left it open to questions about the integrity of PIDG's investments and some of the companies with which it works.
"Concerns were raised with us about the complex corporate structures that PIDG's partners have sometimes established, making it difficult to be certain about the ownership of companies and creating a risk that those involved may have criminal connections."
The cross-party group of MPs also raised concerns over lavish travel spending. It said more than £75,000 was spent on 15 flights between January 2011 and July 2014.
Mrs Hodge said it was vital for public confidence in overseas aid spending that the department can demonstrate UK taxpayers' money is "not ending up in the wrong hands".
"Every pound that is lost to fraud and corruption is a pound that could have been spent on educating a child, improving health systems or supporting economic development," she said.
BBC diplomatic correspondent Bridget Kendall said the report singled out "lavish travel budgets" and funds that were left unspent in bank accounts for two years.
She said the report highlighted two projects - one in Ivory Coast and one in Nigeria - which involved partners "alleged to have links to a convicted fraudster and to the looting of Nigerian oil".
Aid target
A spokesman for the department said Britain's investment in PIDG had helped to create 200,000 jobs and driven £6.8bn of private investment into some of the world's poorest countries. This had helped to develop their economies and make them less dependent on aid, the spokesman said.
"We already have strong oversight of PIDG's activities and have recently clamped down on excessive travel rates.
"An independent review of their operations, backed by Britain, will ensure they continue to kick-start growth in the developing world," they added.
Earlier this month, a report by the National Audit Office (NAO) said DfID had spent at least £1bn more than expected on overseas aid in two months to meet the UK's spending target of 0.7% of GDP.
The NAO said the money may not have been spent as effectively as possible as a result, although an official said aid went only where it was most needed.