Election 2015: Can Greens emulate Brighton success elsewhere?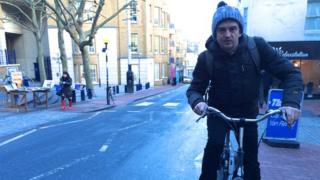 There is something singularly humiliating about being defeated by an area nicknamed "Muesli Mountain".
My excuse is that the bike I was on was a fairly old, rented, Dutch model suited - please believe me - to a flatter landscape.
It was also a cold, windy day with a fierce gale blowing down the so-called mountain. Not ideal for cycling.
Still, I felt pretty daft when, a few metres into what would more appropriately be called a hill, my legs ceased to work, and pushing rather than pedalling was required.
It had seemed the right thing to do. Go green and use an environmentally-friendly way of getting around the country's first Green-led city.
Brighton, in fact, boasts two Green firsts - the first council run by the party (it's a minority administration) and its first Member of Parliament, Caroline Lucas, voted in at the last election.
What I wanted to find out was whether success in an area always known for its alternative nature, can be - as the party believes - turned into greater victories in May's election.
So there I was in the foothills of Muesli Mountain, which is what some in Hanover, Brighton, call the area, legs shaking, chaining up the bike and wandering into a café to warm up.
Hopes fulfilled?
There I found Audra serving a flat white and a green tea to two customers sitting in the window.
She's lived in the city for the last five years - as long as it has had a Green MP. The council turned Green in 2011.
"When I first moved to Brighton I was really hopeful about (the Greens), but… I don't think they do that much which is particularly green," she says, clearing up the counter.
"The public transport is terrible. They've run the green bus company out of businesses. The waste management is terrible, I really don't have very high hopes for them."
She will be voting Labour in the election.
The manager, Andy Walker, rang through a falafel and hummus sandwich sale, then declared he had no idea who he will vote for.
"At this moment in time it wouldn't matter who got in regarding Labour, Conservative. I mean I know there's UKIP, the Greens, but they have no chance anyway."
No chance of leading the government - that is true, but surely Brighton, where the Greens broke the political mould, clearly shows how people can vote for and get different parties into power?
"Yes, in this area, but I think this is the only area where they're going to be a major difference."
Brighton is a small city. A little tatty in parts, some streets feel like San Francisco on America's west coast, with their tattoo parlours and the smell of incense wafting out of shop doors.
'Meat-free Monday'
Sam Keam knows the streets well. A while back he started up a delivery business using bikes. An electric motor kicks in while he's pedalling to help him on the hills. No Muesli Mountain humiliation for him.
He is not fed up with the way in which the Green Party has run the city. For him, their record on cycling speaks for itself.
"Some of the main junctions have been improved from a cyclist's perspective," he says. "We've got more space."
The cycle lanes haven't been to everyone's liking. Some complain they've narrowed the roads and increased traffic congestion.
Critics of the Greens have leapt upon other policies as proof the party isn't fit to be in office. "Meat-free Monday" was abandoned after some public sector workers complained about not getting their bacon sandwiches.
A dispute over pay and conditions with the bin men led to rotting rubbish on the streets in the middle of a hot summer while the workers went on strike.
There is a long-running battle to stop the building of an observation tower on the seafront - that is supported by the council.
Perhaps the strangest failure - as many perceive it here - is the council's record on recycling. It is one of the worst in the country. Three quarters of the waste in the city is not being recycled.
Still, Sam Keam will vote Green again - both in council elections, and in the general election.
"Whenever you see a fringe political group get into some sort of actual power there's always going to be strong critics of their attempts at running things.
"My experience has been everything seems to have been normal. Things are running as they do anywhere else."
There must be others who agree. In Brighton, the Greens' membership is rising, and has been for some time.
Nationally, the party recently acquired more members than the Liberal Democrats - a party of government - and UKIP, that has been making all the headlines for months now.
The leader of Brighton and Hove City Council, Jason Kitcat, admits there have been difficulties - but he says "all councils are going through difficult times".
Different culture
Inexperience is a criticism often thrown at the Greens - and it may be a factor that affects the vote in the dozen or so constituencies where it believes it has a chance in May.
"Certainly it's the first time that we've led a council even though we are a minority administration," Mr Kitcat says. "When we got elected half our councillors were first time councillors.
"Also we have a different political culture. We are not whipped. We haven't had as much self-discipline as other parties do.
"But if you look at our record - over 75% of our local manifesto promises have been delivered or are on course to be delivered. That's a strong record of delivery."
Top of the Greens' national target list is Norwich South, won by the Liberal Democrats in the last election by a whisker over Labour. The Greens won 15% of the vote in 2010 and one poll has them on 20% in the constituency now.
Other areas they might fare well in include the south-west of England.
The damage they could inflict won't simply be in terms of seats won - indeed they may win none. Ms Lucas won Brighton Pavilion by just 1,252 votes.
Of far more significance is how much of the vote they take from the Labour Party, in particular, in marginal constituencies, affecting its chances of winning seats.
'Having a voice'
Voters like Ginny Dean will be crucial in deciding that.
She's standing just up from the bike racks outside the council offices, wrapped up against the cold, among several dozen other protestors.
They are trying to stop the council agreeing to a housing development on a green field site on the edge of Brighton.
"I've got the threat of building directly opposite where I live. They're trying to frack in the field next to my horse. So I've got no choice but to really think about how I want to vote and what I believe in."
So who might she vote for?
"I've always voted Labour," she says, but she could vote Green this time round.
With other political parties emerging and growing in stature, she no longer sees it as a wasted vote.
"You begin to think well actually the Green Party have got a voice, they can say something. And if I vote Green there is quite a strong chance that my candidate will get in and will be able to represent policies that I believe in at a national level."