Third of women voters undecided, suggests TNS/BBC poll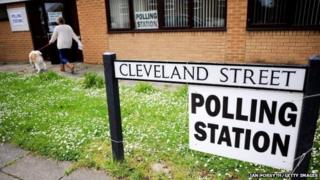 More than a third of women are yet to decide who to vote for at the UK general election, a TNS poll for BBC Radio 4's Woman's Hour has suggested.
Of those surveyed, 35% said they did not know who to cast their ballot for - compared with 25% of men.
The poll also found the NHS, living costs and the cost of caring for family were of greatest concern for women.
And about half said they did not believe that party leaders understood what life was like for their families.
The telephone poll interviewed a representative sample of 975 adults in Great Britain between 23 and 26 January 2015.
Future leaders
The findings suggest there is a great deal at stake for the parties in their battle to win over female support ahead of the UK-wide poll on 7 May.
Almost half of all women with children - 48% - said they did not vote in the 2010 general election, while a third of women without children claimed they did not cast their ballot, according to the research.
The NHS topped the poll as the issue of greatest concern at the election - chosen by 59% of women, compared with 50% of men.
While the cost of living was picked as the second most important issue for both men and women, 30% of women polled identified the cost of caring for their family as the next biggest worry - for men it was immigration.
A total of 31% of male respondents were concerned about the economy, including the deficit and unemployment, compared with 21% of women.
Asked to say which party best understands the issues faced by families, 20% of respondents choosing Labour compared to 16% for the Conservatives.
However, there was less good news for the leaders of the main parties, with 48% of women polled saying they did not feel the leaders understood what life was really like for families, compared with 41% of men.
Just 10% of female respondents believed David Cameron best understood their daily lives, while 12% of women said the same about Ed Miliband.
According to the poll, 44% of voters overall said they thought Home Secretary Theresa May would perform well as Conservative leader. Labour's shadow home affairs spokeswoman Yvette Cooper polled less favourably as a future leader on 38%.
For both Mrs may and Ms Cooper, more men than women thought they would perform badly as their respective party leaders.
Commenting on the poll's findings, Woman's Hour editor Alice Feinsten said the results offered "a real insight into the issues that women care most about".
"As we approach the general election, Woman's Hour expects to be interviewing party leaders and asking them what they are doing to address the concerns of women voters," she said.